How Wood & Wool are Intersecting in Sustainable Design
Globally, there are 2.4 trillion square feet of constructed environment, a number slated to double in the next 40 years. Instead of racing to build faster and cheaper, there is a growing demand to build better and more ecologically responsibly. What better material is there than two age-old renewable resources that are finding popular use as high-quality building materials: wood and wool.
Today on the Marketscale AEC Podcast, host Tyler Kern sits down with two company founders in this burgeoning renewable materials space: Andrew Legge, founder of Havelock Wool, and Andrew Linn, co-founder of BLD.US.
"There's a very simple but important notion in building: materials matter," said Legge. Havelock Wool is a Nevada-based insulation manufacturer which uses 100% sheep wool as its natural and high-performance home insulation.
Havelock Wool recently teamed with Linn's BLD.US to build its ecologically-sustainable home office. The Washington, D.C.-based company creates durable and affordable buildings built mostly of renewable materials like wood and bamboo as alternatives to steel and concrete.
"Wood is a technology that's being rediscovered," said Linn.
As unlikely as wood and wool seem for durable building materials, Linn says these Mother Nature-developed materials are helping minimize the need for drywall and fiberglass insulation– two particularly ecologically-taxing materials to produce and install.
While high-quality, sustainable materials may cost more, the worldwide customer demand is more than a trend; it's a movement, Linn said. Though it seems the needle moves more in commercial high-rise buildings, Linn said he hopes builders will start shifting the tide to sustainable materials in smaller buildings and single-family homes.
"For builders, it's a differentiator," he said. And in a market where builders are desperate to differentiate themselves from similar home builders, sustainable and ecologically-sound building materials could be the real change-maker.
For the latest news, videos, and podcasts in the AEC Industry, be sure to subscribe to our industry publication.
Follow us on social media for the latest updates in B2B!
Twitter – @AECMKSL
Facebook – facebook.com/marketscale
LinkedIn – linkedin.com/company/marketscale
Latest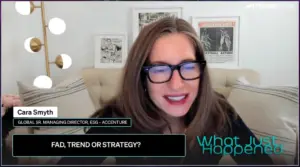 November 30, 2023
The world is in an era where sustainability and responsible retail business practices are increasingly crucial. For the latest episode of "What Just Happened," host Christine Russo further explored the hows and whys of this pressing issue by interviewing Cara Smyth, Global Senior Managing Director for ESG and Responsible Retail at Accenture, and Chair […]
Read More