Get the Most Out of Your Coverage with Warranty Management Service
A roof is an expensive investment, making it crucial that this critical structure is covered by a warranty in the event something goes wrong. Typical manufacturers warranties are nowhere near as strong as Fortis "No Hassle" Warranties, and oftentimes, building owners are unaware of their OEM roof warranty's finer points.  Unfortunately, they learn them at worst time – when the roof malfunctions and they are surprised by a claim denial. To avoid hefty out-of-pocket repair costs, ensure your pricey investment is prepared for the unexpected.
Keep Track of Your Warranty
You paid good money and went through a lot of work to install a new roof that came with a warranty that seemingly protects it from damage or malfunction for a number of years. What would happen in year five though, if you discover that your roof needs repairs, and no one at your company knows that you have a warranty nor knows who to call?   Believe it or not, this scenario is quite common. Record keeping can be difficult to maintain throughout the entirety of the warranty duration. You can't use your warranty if you don't know to access it or can't find it, and an emergency is the worst time to try to hunt down the documents you set aside years ago. Knowing where your warranty is and how to access it is the first step to keeping your investment and wallet secured.
Understand Your Warranty and Maintenance Requirements
Did you read your warranty line-by-line and do you understand the details of your coverage? If so, then you already know that many manufacturers require owners to perform regular roof inspections and to document the findings. It would be devastating to discover in an emergency that your claim has been rejected because you failed to carry out the designated inspections and were deemed negligent in maintaining your roof. Even small defects can result in your warranty being voided, forcing you to reach into your pocket to pay for huge repairs.
What else should you know about your OEM warranty? Well, certain acts of omission by technicians can also void a warranty. The same is true of owner-made alterations, modifications, and even roof repair work that is performed without the manufacturer's written authorization. Similar written authorization is needed before installing equipment, utilities, or fixtures on the roof. If you have your preferred contractor perform maintenance repairs, and the contractor isn't properly qualified, that can also lead to a claim being denied. It's also possible that your warranty wasn't set up to cover extreme conditions such as hurricanes or tornadoes. If your property is in an area prone to natural hazards, then you should understand the limitations of your warranty and consider expanding your coverage.
Fortis Warranty Management Service
Fortis Warranty is in the business of providing superior New Roof Warranty's and Extended Roof Warranties.  In addition, Fortis offers a Warranty Management Service to building owners. Our warranty management includes cataloging and electronically storing all your various warranties (contractor warranty, materials warranty, etc.) in a database that can be accessed at a moment's notice. The experts standing by at our customer solutions center will help make sense of the warranty language, so you understand exactly what's covered, as well as the steps that need to be taken to ensure your warranty remains valid.  Further, we will act as your authorized agent to place warranty claims for on your behalf and help maximize the participation of the OEM manufacturer to solve your claim.
At Fortis, we offer customers a better way to safeguard their commercial roof assets and save them money. Contact us to learn more about our New Roof Warranties, Extended Warranties, and Warranty Management Service.
Latest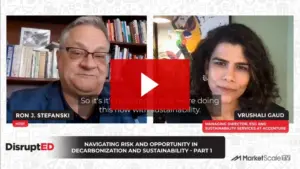 September 26, 2023
The global conversation has shifted dramatically towards decarbonization and sustainability in recent years. With the world experiencing unprecedented levels of disruption, from 5G technology to the challenges of a pandemic, the urgency to address climate change and its implications has never been more palpable. Although most business leaders see the vision of Sustainable Development […]
Read More