Advancing Breast Cancer Diagnosis and Treatment: The Role of Cerianna And FDG PET Imaging in Personalized Care
Cerianna PET is a diagnostic tool used with FDG PET imaging to detect estrogen receptor-positive lesions in patients with recurrent or metastatic breast cancer. It is not useful for imaging other receptors such as HER2 or PR. Tissue biopsy should be used to confirm recurrence of breast cancer and ER status by pathology. Adverse reactions are rare and include injection site pain and dyscusia. Patients should report any suspected adverse reactions immediately to their healthcare provider or the FDA.
Breast cancer is one of the most common types of cancer that affect women worldwide. In recent years, there has been a significant advancement in breast cancer diagnosis and treatment. One such advancement is the use of positron emission tomography (PET) imaging with a diagnostic agent called Cerianna. Cerianna is a radioactive diagnostic agent that is indicated for use with PET imaging for the detection of estrogen receptor (ER) positive lesions in patients with recurrent or metastatic breast cancer. It works by binding to the ER on breast cancer cells, which enables doctors to detect their presence.
The use of Cerianna as an adjunct to biopsy can help doctors determine whether breast cancer has recurred or metastasized and whether it will respond to endocrine therapy, which targets the ER. This personalized approach can improve patient outcomes by enabling doctors to tailor treatment based on individual patient needs.
For example, in modern estrogen receptor targeted therapy with an aromatase inhibitor and CDK46 inhibition, FDG PET imaging is used to determine the extent of disease and whether disease is responding to therapy. In some cases, Cerianna PET may be predominantly negative even though FDG PET shows the extent of disease. This indicates that the ER in this disease may not be accessible to binding by Cerianna, which means that this patient may not respond well to ER targeted therapy. Tissue biopsy should be used for confirming recurrence of breast cancer and verifying ER status by pathology before using Cerianna as an adjunct imaging tool. The limitations of use include its inability to image other receptors such as human epidermal growth factor receptor 2 (HER2) and progesterone receptor (PR). In clinical trials evaluating safety, adverse reactions occurred at less than 1 percent rate with injection site pain and dyscusia being reported most frequently among patients with breast cancer who received Cerianna.
Cerianna is manufactured by Zyanexa U.S. Corporation, a GE Healthcare company, and is available only by prescription. Patients who experience adverse reactions should report them to their doctor or to the FDA MedWatch program.
In conclusion, Cerianna is a valuable adjunct imaging tool in the diagnosis and treatment of breast cancer. It can help doctors detect ER-positive lesions, determine disease extent and response to therapy, and personalize treatment for individual patients. Cerianna PET imaging should be used along with tissue biopsy for confirming the recurrence of breast cancer and verifying ER status by pathology before initiating endocrine therapy targeting the ER receptor.
Latest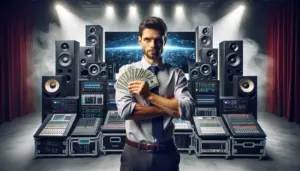 December 8, 2023
Mastering AV sales strategies in a global professional audio-visual (Pro AV) market, poised to reach $79.2 billion by 2028, requires much attention to detail. The surge in demand from corporate, government, and institutional sectors, driven by the need for enhanced productivity and efficient working environments, gives AV sales pros a lot of opportunity. In […]
Read More