Advancing Precision Healthcare: Empowering Clinicians with Cerianna PET Scans for Tailored Breast Cancer Treatment
GE Healthcare has developed Cerianna, a precision molecular diagnostic innovation that enables clinicians to perform high-quality, whole-body PET scans to locate ER positive lesions. It addresses the challenge of providing a precise diagnosis for metastatic breast cancer patients due to discordance. Cerianna is a first-of-its-kind imaging agent that can locate ER-positive lesions and help inform clinical care. Potential side effects are pain at the injection site and temporary altered taste sensation. Please discuss any concerns with your doctor.
Precision healthcare is a rapidly growing field, and GE Healthcare is at the forefront of innovation in this area. Their latest product, Cerianna, is a prime example of how diagnostics are advancing to help clinicians provide more individualized and tailored treatment plans for patients. Metastatic or recurrent breast cancer patients face a unique set of challenges when it comes to treatment.
For one, it can be difficult to provide a precise diagnosis due to discordance. When lesions throughout the body present with a mix of positive and negative estrogen receptors (ERs), it can make them difficult to analyze based on biopsy results alone. Additionally, not every lesion within a patient can be biopsied. This is where Cerianna comes in. It's the first FDA-approved molecular imaging agent that uses PET scans to locate ER positive lesions in metastatic breast cancer patients. This has the potential to inform clinical care by giving clinicians an accurate picture of a patient's whole body ER positive tumor burden.
Latest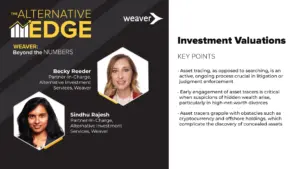 December 4, 2023
In this episode of The Alternative Edge, a Weaver: Beyond the Numbers Podcast, host Becky Reeder, an audit partner and co-leader of the alternative investments practice at Weaver, engages with Sindhu Rajesh, an Alternative Investment Services Partner with Weaver. They unpack the complexities of venture fund valuations, offering critical insights into industry dynamics and best […]
Read More