Revolutionizing Breast Cancer Diagnosis: Unveiling the Potential of Cerianna PET Imaging Agent for Estrogen Receptor-Positive Lesions
Cerianna is a radiolabeled estrogen imaging agent that can detect estrogen receptor status in metastatic breast cancer. It can show the heterogeneity of estrogen receptor expression in multiple lesions within a patient. It is only useful for patients who are estrogen receptor positive and tissue biopsy should be used to confirm recurrence of breast cancer and verify ER status. Its adverse reactions include injection site pain and dyscusia.
Cerianna, a novel imaging agent, is revolutionizing the diagnosis and treatment of breast cancer. With the ability to detect estrogen receptor status in recurrent and metastatic lesions, it serves as an adjunct to biopsy for patients with estrogen receptor-positive breast cancer. By visualizing the presence of estrogen receptors in tumors, Cerianna enables physicians to determine the tumor's responsiveness to hormone therapy. This targeted therapy can block hormones or hormone receptors that fuel cancer cell growth, leading to better treatment outcomes. Compared to traditional imaging methods like CT and MRI, Cerianna PET scans provide additional valuable insights by assessing metabolic activity changes within tumors. Notably, these scans prove particularly useful when identifying suspicious areas that may be missed by other imaging modalities. Moreover, Cerianna PET scanning has potential applications in monitoring treatment responses using precision medicine approaches, leveraging genomic biomarkers such as PIK3CA and ESR1 mutations associated with endocrine resistance. This imaging technique holds promise beyond breast cancer, extending its utility to hormone receptor-positive malignancies like prostate and ovarian cancer. Ultimately, Cerianna PET imaging offers a personalized and effective tool for diagnosing and treating hormone receptor-positive cancers, revolutionizing the field of oncology.
Latest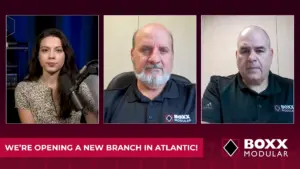 December 4, 2023
In an era where construction innovation is reshaping the industry, modular construction's growth continues to rise. In this episode of Built Modular, Boxx Modular's strategic expansion into Moncton, Atlantic Canada takes center stage. Host Gabrielle Bejarano welcomes Charles Landry and Ray Girouard to explore the implications of this venture. Bejarano, Landry, and Girouard discuss […]
Read More