Revolutionizing Field Medical Care: The Game-Changing Impact of Handheld Ultrasound Technology
Vscan Extend is a pocket-sized handheld ultrasound system. It empowers healthcare professionals to make focused assessments and accelerate treatment decisions at the point of care. It fits in the palm of your hand and is easy to use like a smartphone, helping you take decisive action, refer patients quickly, optimize the course of treatment and reduce the overall cost of care. Introduced in 2017, the Vscan Extend product offers two transducers in a single probe. Both transducers are always connected and always available. The dual-headed probe allows for shallow and deep views in a wide variety of exam types and clinical applications.
In the realm of field medical care, the introduction of handheld ultrasound technology has brought about a revolutionary shift. The implementation of ultrasound devices on helicopters has enabled rapid, life-saving interventions that were previously unattainable. With many incidents occurring outside of hospital settings, such as on city streets or highways, the ability to provide immediate care is crucial. Approximately 30% of flights involve landing at the scene of an emergency, allowing for on-site patient evaluation. The portability and simplicity of the handheld ultrasound device, such as the GEV scan, facilitate its use in the air medical industry. By uploading ultrasound images to cloud platforms like Trisify, medical crews can quickly share critical information with doctors, altering treatment decisions and ultimately saving lives.
Latest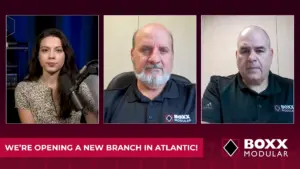 December 4, 2023
In an era where construction innovation is reshaping the industry, modular construction's growth continues to rise. In this episode of Built Modular, Boxx Modular's strategic expansion into Moncton, Atlantic Canada takes center stage. Host Gabrielle Bejarano welcomes Charles Landry and Ray Girouard to explore the implications of this venture. Bejarano, Landry, and Girouard discuss […]
Read More