Unlocking Estrogen Receptor Status: Cerianna PET Imaging as an Alternative to Biopsy for Challenging Lesions
Cerianna is a radioactive diagnostic agent used with PET imaging to detect estrogen receptor positive lesions in patients with recurrent or metastatic breast cancer. It is an adjunct to biopsy and can help avoid the morbidity associated with brain biopsy. However, tissue biopsy should still be used to confirm breast cancer recurrence and verify ER status by pathology. Adverse reactions are rare and include injection site pain and dyscusia.
The assessment of estrogen receptor (ER) status in challenging-to-biopsy lesions is vital for cancer diagnosis and treatment. Cerianna, a radioactive diagnostic agent used with PET imaging, plays a crucial role in determining metastases from ER-positive breast cancer cells when biopsies are difficult or risky. Breast cancer, accounting for 25% of cancers in women worldwide, predominantly includes ER-positive cases. While ER-positive tumors rely on estrogen, their response to treatment varies due to receptor mutations. Cerianna binds to ERs during PET scans, enabling non-invasive detection of ER-positive metastases. Approved by regulatory agencies, including the FDA and European Medicines Agency, Cerianna aids in diagnosing ER-positive metastases not only in breast cancer but also in other estrogen receptor-expressing cancers like endometrial and ovarian cancers. Although biopsy remains the gold standard, Cerianna complements it, providing valuable information alongside imaging tests like CT scans and MRIs. By enhancing targeted treatment plans, Cerianna facilitates more effective management of recurrent or metastatic breast cancer.
Latest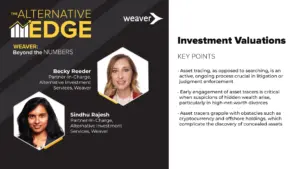 December 4, 2023
In this episode of The Alternative Edge, a Weaver: Beyond the Numbers Podcast, host Becky Reeder, an audit partner and co-leader of the alternative investments practice at Weaver, engages with Sindhu Rajesh, an Alternative Investment Services Partner with Weaver. They unpack the complexities of venture fund valuations, offering critical insights into industry dynamics and best […]
Read More