NAVA Calls For Safeguards for Voice Actors Against AI Synthetic Voices
The rise of AI is disrupting every industry, and its evolving capacities are creating powerful new use cases for businesses to take advantage of. These use cases, though, bring with them a tension between new tools and seasoned professionals. AI synthetic voices are a microcosm of this trend, and also a major point of debate for the media industry.
AI technology can now create "synthetic voices" that are uncannily human and will soon be prolific. Companies are eager to use AI synthetic voices in various ways: in video games, movies, and television. Company leaders' eagerness to jump on the AI bandwagon was a major topic of conversation at San Diego Comic-Con, for example, where voice actors warned that this technology is encroaching on their livelihoods.
It's also clear that media professionals are keeping a close eye on AI and its impact across the entire industry; SAG-AFTRA and the WGA conducted a historic strike this year where they demanded protections against the widespread application of AI, which if used inappropriately, could leave thousands of workers out in the cold. This isn't to say that AI is the only problem that led to the strike. As Slator reports, voice actors have historically been paid low wages and are often uncredited for their contributions to major projects. But the question has to be asked: can synthetic voices and human voice actors co-exist?
This was one of many questions that shaped the VOICE & AI Conference this month. Leaders in the industry gathered to discuss the impact of generative and conversational AI, and find solutions to the problems the technology may be causing while celebrating its potential. Carin Gilfry, the Vice President of the National Association of Voice Actors (NAVA), attended the conference where she offered her thoughts on the fears voice actors have around AI. Carin emphasized that many voice actors worry that voice cloning can dilute an actor's brand if their contracts don't provide safeguards against how their voice ought to be used. She believes that NAVA's role is to ensure that actors maintain control over their voice, can consent to how it is used, and are compensated well in the process.
Carin Gilfry's Thoughts
"I think there's a lot of fear in the voiceover community right now among voice actors, that all of their jobs are going away. I think there will always be a need for voice actors, but there is also a place for synthetic voices as well and voice clones as well. What we are most concerned about is people using our voices without our permission and beyond our control. Because when I don't have control over what my voice is saying, it really dilutes my brand. It kind of robs me of the ability to make a living by licensing my voice, which is what I do. And it also takes away my freedom of speech, really.
What can voice actors do to protect themselves? There are a few things voice actors can do to protect themselves from having their voices used without their permission. One is if you are entering into a contract with any company, whether it's for a commercial or an e-training or a video game or whatever, is to make sure there's language in your contract that limits the use of your sound files to that specific job. NAVA has a contract writer that can be added to any contract that says just that, and it's free to download from our website and a lot of people have used it.
But if you're entering into an agreement with a company who you know wants to make a synthetic version of your voice, there are really three things that you need to be aware of. One is you want to have consent… You kind of want control… And compensation. Compensation is the third one and it's the trickiest because there is no standard compensation model for the use of someone's synthetic voice.
There are some exciting opportunities out there for voice actors when it comes to synthetic voices. There are jobs that exist that human voice actors absolutely cannot do. For example, I have a couple of synthetic voices and one of them tells you the weather in every place that exists. This is not a job that I can do as a human."
We have a lot of great resources on the NAVA website and you can go to navavoices.org and check out our synthetic voices resource page. We have our free AI synthetic voice contract writer there as well as a bunch of cool information and a glossary of terms and a bunch of other stuff about NAVA and the way that we're helping the voice acting community."
Article written by Shanice Bennerson.
Latest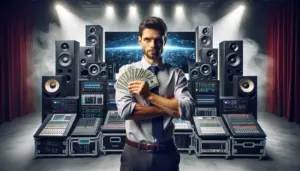 December 8, 2023
Mastering AV sales strategies in a global professional audio-visual (Pro AV) market, poised to reach $79.2 billion by 2028, requires much attention to detail. The surge in demand from corporate, government, and institutional sectors, driven by the need for enhanced productivity and efficient working environments, gives AV sales pros a lot of opportunity. In […]
Read More