Demystifying Detect and Avoid Technology in Drones
As the drone industry pushes boundaries and navigates increasingly complex airspace, our guest Trent Martinez, an FAA certified Part 107 sUAS Pilot and integration engineer at uAvionix, brings his expertise to the table. Building on our previous episode about Beyond Visual Line of Sight (BVLOS) operations, we unravel the intricate world of detect and avoid technology. Join us as we uncover the underpinnings of drone safety, autonomy, and the path to seamless airspace integration.
What role does detect and avoid technology play in the safe integration of unmanned aerial vehicles into an ever-evolving airspace, and how does it pave the way for transformative applications?
Main Points of Discussion:
The Complex World of Detect and Avoid: Demystifying the Sense and Avoid System
Unveiling the Crucial Role of Situational Awareness and its Industry-wide Relevance
Overcoming Challenges: Exploring the Technologies Enhancing Detection
Radar and ADS-B: Anchoring the Detect and Avoid Framework
Future Visions: Integration of AI and Autonomous Systems for Enhanced Drone Safety
Guest's Background:
Trent Martinez is not only an integration engineer at uAvionix but also a certified FAA Part 107 sUAS Pilot. With a deep understanding of drone technology and its intersection with aviation, Trent brings valuable insights into the realm of detect and avoid technology and its transformative potential.
Latest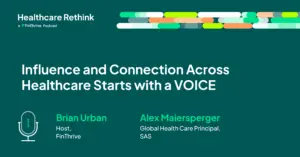 September 29, 2023
In the latest episode of the Healthcare Rethink podcast, presented by FinThrive, host Brian Urban sits down with Alex Maiersperger, the Global Principal Healthcare at SAS. Their conversation charts the role voice plays in influencing and connecting the healthcare industry. Maiersperger, who co-founded the Advancement League, shares his journey from being a healthcare optimist to […]
Read More