Spice Up Your Kitchen With These Kitchen Island Trends
The kitchen is where food and memories are made. Having extra counter space is always a plus, which is why so many kitchens feature an island. If you've been dreaming of escalating the look and practicality of your kitchen with an island, you don't want to miss out on these trending kitchen island ideas.
How Will You Use Your Kitchen Island
The Moments of Life Photography – Moorland Fog
When designing your new kitchen island, you'll want to consider how it will be used. Prime real estate that handles a variety of activities—from meal prep to storage to a place to sit and eat or catch up on some office work–your kitchen island must be more than an eye-catching centerpiece; it must also be functional and practical.
The style of your island will also depend on your unique space. The bigger the area, the more impressive your island can be. In homes with an open concept, it can also serve as a distinct division between the kitchen and family room.
Kitchen Island Trends: Ideas to Consider
When creating a kitchen island, you'll want to start with inspiration. Here are some ideas based on what we're seeing in kitchen islands today.
Waterfall Islands
Pacific Shore Stones – Rugged Concrete
A hot trend in kitchen islands right now is extending the surface to the floor to create a "waterfall" effect. Waterfall islands are sophisticated and elegant, working well in both contemporary and traditional kitchens. We recommend our Empira White 5151 or Biano Drift 6131 to capture this look.
Family-Friendly Islands
RCL Development- Misty Carrera
For a family-friendly island, think big. With a larger island, you'll have plenty of seating on one side for quick breakfasts before school or finishing homework in the evening. You'll also want to add assorted cubbies and cabinets to accommodate the storage needs of your family. And to ensure family-friendliness, quartz countertops are a superior option, featuring both incredible durability and nonporosity. And best of all—they're easy to clean.
Double Sink Kitchen Islands
An island featuring a sink makes meal prep easier while freeing up counter space on your perimeter cabinets. Very popular in current design, the Farmhouse sink features two basins, offering double the functionality.
Glamorous Kitchen Islands
Trends Design – Vanilla Noir
Add some drama to your kitchen island with a stunning countertop surface. If the kitchen is where you gather, then turn up the glam factor with a bold countertop that exudes luxury. Go dark with Caesarstone's Jet Black 3100 or Vanilla Noir 5100.
Colorful Kitchen Islands
Think of your island as an accent piece, complementing the room. Make it pop by choosing a bright color for the cabinetry beneath that juxtaposes against existing cabinet colors. However, with colorful cabinetry, go neutral on the countertop surface with options like our Pure White 1141 or Ocean Foam 6141.
Functional Kitchen Islands
Ben Herzog Architect- Photo credit Marco Valencia- London Grey
The kitchen island is for more than dicing up vegetables or sauteéing on the cooktop. If your kitchen needs additional storage, add some extra drawers to the seating area. While you may have to eliminate a chair or two, more receptacles to accommodate items adds to your kitchen's existing stowage capacity.
Oversize Islands
Alno – Lars Frazer Photography 
If you have the room, an oversized kitchen island will offer multifunctional space. With an oversized island, you'll never need to worry about counter space, and there will be ample room for eat-in kitchen seating, too. If you decide to go big, choose a classic, timeless countertop surface like Caesarstone's London Grey 5000 or Frosty Carrina 5141.
Long Island Kitchens
Charlie Kingham – Pure White
Don't let the dimensions of your kitchen be an obstacle. For kitchens that lack width, a long, rather than wide, island can still make an impact. With length, you can have one section dedicated to usable counter space with the other end designated for seating. Even a narrow island can accommodate a sink above and a dishwasher below.
Tiered Kitchen Islands
A tiered island is another idea that makes use of smaller spaces. A bar that tiers up from the main counter space provides an elevated area for dining and eating separate from the food prep area. It's a clever approach to ensure the island meets both your aesthetic and functional needs.
Choosing the Best Surface for Your Kitchen Island
Boutique Homes – Dreamy Marfil
When choosing the surface for your kitchen island, you'll need to know how much weight the base can bear. Granite, for example, is much heavier than quartz; thus, a base that isn't built to accommodate granite may not tolerate the added weight. Further, with functionality a driving factor of the kitchen island, you'll want to ensure the surface can withstand use and abuse. Designed for life, high-quality quartz surfaces from Caesarstone boast remarkable style and endurance, requiring very minimal care and maintenance.
At Caesarstone, we offer premium quartz surfaces that dramatically change the look and feel of any space. Combining beauty with performance, our quartz countertops are ready to meet the demands of your busy kitchen. Find your perfect countertop by browsing all our collections.
Latest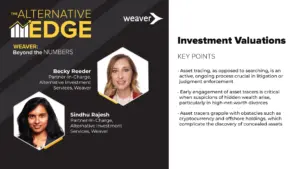 December 4, 2023
In this episode of The Alternative Edge, a Weaver: Beyond the Numbers Podcast, host Becky Reeder, an audit partner and co-leader of the alternative investments practice at Weaver, engages with Sindhu Rajesh, an Alternative Investment Services Partner with Weaver. They unpack the complexities of venture fund valuations, offering critical insights into industry dynamics and best […]
Read More