What Architecture Firms Are Looking For in Young Employees
Millions of careers will start in the United States this summer. With one of the tightest labor markets in history though, it can be tough just to get a foot in the door with attractive companies.
The AEC industry is no different. With the economy doing well, opportunities are everywhere, but so is the competition.
"It's a great time actually to come out of school. Everyone is still really, really busy. Finding a job isn't as hard today as seven, eight, nine years ago," Bob Borson, Principal Architect at Malone, Maxwell & Borson said. "The thing that makes me a little worried is it's been really good for awhile now and the AEC industry as a whole goes through these cyclical kind of moments and we're waiting for it to kind of turn down."
Borson, who created the popular architecture-themed blog, Life of an Architect, has been in the architecture industry for decades now, but knows how important young architects' first job is today.
"It's important because it can dictate how your entire career might go," he said.
This is not to say young architects should lock themselves into situations if they are not receiving the right opportunities though.
One way Borson advises those breaking into the industry to do is find a mentor in a role they envision themselves in one day.
"The thing that makes mentorship work, and this is important, is you have to reevaluate the decisions you've made. So, it suggests that that partnership has to be in place for a period of time," he said.
Ultimately, sometimes landing that first job can come down to executing on the simplest of expectations, according to Borson.
"There are certain things we talk about that are kind of problem solving 101. If someone sends me a resume and they want a job and they address it to 'Dear Sir/Madam', you already failed the very first test which is to find out who you should address this to" he said. "It's not a hard problem to solve.
When beginning a career, Borson also advises to measure the nature of the company and the relationships with senior teammates and clients. This can be unnerving for young workers but at some point, employers will expect genuine opinion and contribution when the time is right.
"If you're in the room, if your employers have brought you into the space and put you at the table, they probably want you to feel comfortable to at least opening your mouth and saying something. Or they wouldn't bring you," he said.
To watch Borson's entire interview on MarketScale Mornings, click here! For the latest in AEC news, head to our industry page! You can also follow us on Twitter at @AECMKSL. Join the conversation in our Market Leaders LinkedIn group!
Latest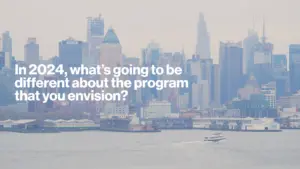 December 1, 2023
In the dynamic telecommunications landscape, Verizon's Partner Network continues to evolve, adapting to new trends and opportunities. For another segment featuring Mark Tina, VP of Indirect Channel Distribution and Channel Chief at Verizon Business Group, he explores exactly what types of significant changes and advancements the Verizon Partner Network will see in 2024. In this […]
Read More