Architecture's Role in Creating and Communicating Culture
Key Points:
Architecture is a form of art that can communicate culture and history.
As an art form, architecture can be challenging because it must be practical and adhere to societal constraints, while still expressing aesthetic principles.
Architecture can be designed in a specific style, which allows for designers to incorporate local styles and history.
Commentary:
Architecture is a powerful art medium that can be used to communicate a location's history and culture. For Margine Biswas, an Architect at Archiphy, architecture can be a vital tool in telling the story of a location.
"Architecture, just like art, can create spaces that communicate ideas and evoke feelings," says Biswas.
One of the primary constraints for architecture is that not only must it be aesthetically pleasing, but it is also required to be structurally sound. "Architecture is a complex form of art since it not only expresses aesthetic principles, but it also has to be practical and adhere to social constraints," Biswas says.
Latest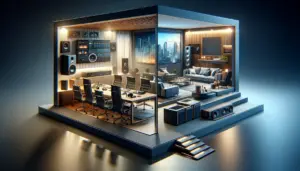 November 27, 2023
In this episode of "Pro AV Today," host Ben Thomas sits down with Audra Kinsley of Sonos Professional to unpack a topic that's causing (sound) waves in the audio industry: the fusion of commercial and residential audio systems. As we navigate through a landscape where consumer and professional audio worlds are increasingly intersecting, Sonos steps […]
Read More