Boon Edam's New AIA Continuing Education Course Emphasizes Entrance Security
Lillington, North Carolina, January 6, 2021 – Boon Edam Inc., a global leader in security entrances and architectural revolving doors, today announced a new continuing education course approved by the American Institute of Architects (AIA) entitled, "Closing the Gap in Physical Security: Addressing the Entry." Architects can view this one-hour presentation in exchange for one Health, Safety and Welfare Continuing Education Unit (HSW CEU) towards their AIA accreditation. The course focuses on the role of security entrances in building design and a physical security strategy, including integration with other security technologies, safety and code requirements, and the impact of pandemics on the entry.
The Purpose of Security at the Entry
The course begins by explaining the importance of controlling access to buildings through designs that address securing the entry. Architects learn the risks and associated liabilities that impact an organization when they fail to put effective measures in place to mitigate unauthorized access at their buildings. The presentation also touches on the results of a recent Boon Edam survey that revealed how security professionals perceive the risk, impact and cost of tailgating at buildings. Tailgating occurs when an unauthorized person follows an authorized person into a facility via a swing door and is arguably the biggest physical vulnerability that an organization will face today.
Security Entrances as Part of a Physical Security Strategy
The AIA course continues by classifying security entrances according to their ability to mitigate tailgating, their safety features and how they comply with local codes. There are also discussions around the people and processes necessary to support each type of security entrance and the importance of securing a building in layers for the best overall outcome. Attendees will also see videos that demonstrate the working principles of turnstiles, security revolving doors and mantrap portals as they rebuff tailgating attempts while integrated with third-party access control and biometric devices.
The Future of the Entry Post COVID-19
The course concludes with details surrounding the future of security in building design in a post-pandemic world. Architects will learn tactics that include creating separate entry and exit points across a building based on the types of users and utilizing technologies that support touchless entry and temperature screening.
Boon Edam will be presenting this updated course nationwide via webinar on Tuesday, January 26, 2021 at 3:00pm EST. Click here to register now.
If you are unable to attend this event, please visit our website at https://www.boonedam.us/aia-ces-courses and fill out the form to the right to schedule a virtual 1-hour lunch-and-learn presentation for your organization at a time convenient for you.
Latest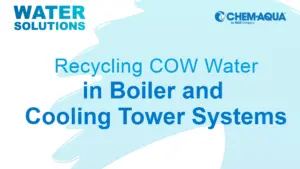 December 7, 2023
For the latest episode of ChemAqua's Water Solutions podcast, the focus was on an innovative approach to water conservation in the dairy industry. The show examined the potential of reusing Condensate of Whey (COW) water, a byproduct of dairy processing, and highlighted some of its economic and environmental benefits. Hosted by Dani Waddell, the informative […]
Read More