Building a Smart City with VIM in Qingdao, China
An increasing number of people around the world are migrating to cities. And in the future, more metropolises will be deemed smart cities. In fact, Smart America estimates that over the next 20 years, city governments around the world will invest more than $41 trillion to modernize their cities. But smart cities of the future will go far beyond automated lighting and autonomous cars. Via Virtual Information Modeling (VIM), the new smart city will be created from the ground up using the power of virtual reality. That's why VIMaec is partnering with both American and Chinese companies to construct a truly innovative city of the future in Qingdao, China.
The "Hollywood of Virtual Reality" 
Qingdao is a city on China's east coast that draws millions of vacationers each year to experience its picturesque beaches and mountains. But visitors to this popular holiday destination will soon experience something altogether new. VIMaec and its partners are constructing is a cutting-edge virtual reality (VR) and augmented reality (AR) theme park on par with the World's Fair. As Qingdao is transformed into the "Hollywood of Virtual Reality", visitors and city leaders around the world will be inspired to consider what's next in enhancing their own residents' lives with technology.
The park is expected to be completed in 12-15 months, and in order to ensure crowd control, it's likely that admittance will initially be granted on a lottery basis. The experiences of visitors to the new park will be unique and varied. For example, because the city is on the ocean, visitors will be able to learn about the aquatic creatures local to Qingdao through an immersive VR encounter. On the ride into the park, students can learn about the exhibits they will be seeing through a "Magic School Bus" VR ride. There will also be an arena for VR concerts.
This project is part of a major collaboration between the United States and China, and was the focus of a recent trip to China by American business leaders. The Digit Group, which is overseeing the project, has signed 1.5 billion dollars worth of contracts for the design and construction of the park.
A Model for Creating Smart Cities 
Plotting has not changed much since the first cities were built, but VR changes everything. And Qingdao is sure to be the model for creating other smart cities across the globe. An entire infrastructure for the city—water, electric, and data—will exist beneath the park, and will utilize a 10G broadband grid (generations ahead of the data speeds provided in most cities) that will function through a network of satellites and specially engineered LED lights. The integration of VR and AR from square one will allow the city's citizens to see and experience things beyond normal reality.
This one of a kind project will set a new standard for what a smart city is capable of—a city where every aspect works in concert to positively impact the lives of its residents. Using data models and harnessing the power of virtual reality will modify how future cities are planned, built, and maintained. In fact, VIM will be used to plan cities where autonomous vehicles won't require roads and buildings aren't confined to plots. It's a new platform for blockchain building where transactions will occur between structures, with digital information impacting the physical world in ways city planners of the first two millenniums could only dream about.
VIMaec Helps Create the Smart City of the Future 
Traditional tools for building infrastructure, like Revit files, simply aren't up to the task of building modern, smart cities. However, when VIM takes BIM data and provides a 3D visualization, the impact is mind-blowing. Revit files are transformed into a VIM, producing a high definition, free roam, 3D walk-through environment which can be explored and interacted with. VIM offers many more benefits to create smart city experiences as well, such as using data for structure accuracy—if data is known for one building, it can be conveyed for an adjacent edifice. This far exceeds the capabilities of Revit alone. And the platform is fast and flexible enough to allow designs to be updated quickly.
Paul Doherty, CEO of the Digit Group, puts it this way, "What VIM does for us is two things: Number one, in order to tell the story, you have to tell it in graphic format. What VIM allows us to do is take highly complex information and provides a simple way to guide people through the storytelling process. The second thing it does for us – especially as we're starting to design these cities that are not car-centric but human-centric – is that it gives autonomous vehicles digital lanes to drive through." Doherty concludes, "More importantly, how can we create a more safe and secure environment that improves the quality of life for the average inhabitant? That is what VIM at it's best is doing for us."
In addition, VIMaec is helping to set the standard for all future AR and VR applications. Today, users can't employ just any device to experience VR or AR. In fact, non-standard operating actually causes people to get sick or nauseated from the experiences, but a single standard can ensure a seamless experience for everyone.
Conclusion 
Until now, smart cities have focused on autonomous vehicles and the need for those vehicles to communicate. But taking a vehicle-centric approach risks missing out on the most important part of a city—the human factor. Smart cities of the future, though, will begin with smarter planning. Playing a huge role in the creation of China's new virtual reality smart city, VIMaec is building better cities for larger leaps by mankind.
Learn more about VIM and its role in the future of smart cities at www.vimaec.com/vim/.
Read more at vimaec.com
Latest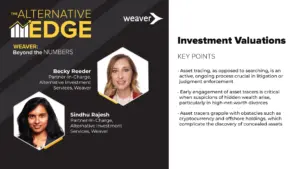 December 4, 2023
In this episode of The Alternative Edge, a Weaver: Beyond the Numbers Podcast, host Becky Reeder, an audit partner and co-leader of the alternative investments practice at Weaver, engages with Sindhu Rajesh, an Alternative Investment Services Partner with Weaver. They unpack the complexities of venture fund valuations, offering critical insights into industry dynamics and best […]
Read More