How Transparency Can Lead to Sustainable Building
Sustainability, transparency, wellness and resiliency are the pillars of the green building world. Host Daniel Huard, the Godfather of Sustainability, collaborates with the experts around the world focusing on green design.
Sustainability is a topic that is becoming more and more a part of our daily conversations at home and in the workplace. Daniel Huard, Host, Build for Impact, spoke with Jeremy Sigmon who is an independent consultant working on sustainable and resilient buildings, infrastructure and cities, about some key topics trending in the sustainability space at the moment.
Sigmon is an accomplished professional in green buildings, resilient cities, and the circular economy. A circular economy is an economic system that works towards eliminating waste and the continual use of resources. Sigmon feels that transparency is paramount in being able to make a transition towards a circular economy  happen. "The core tenet is about getting the right information into the right decision makers' hands, so that more informed decisions can be made…But the transparency equation, you know could very much encompass things well beyond materials. Being able to actually translate information about whether it's environmental impact, or social impact, or potential for resilience and durability," Sigmon said.
He believes that all of these attributes ultimately create an opportunity for a decision maker to make a more informed decision about which material, product, or company is the right one to invest in. He thinks that one of the things that those thinking about transparency have always had to contend with, is knowing at what point there is too much information being shared and what information actually has value.

Latest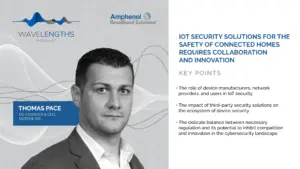 November 28, 2023
Since the introduction of smart devices, the world has increasingly become dominated by interconnected devices but IoT securitydemands are also growing. The "connected home" has shifted from what was once a futuristic concept to reality. With the global smart home market projected to reach $135.3 billion by 2025, the conversation around the security of these […]
Read More