Single-Family Home Building Reaches Two-Year Low
U.S. homebuilding fell more than expected in September causing the number of new single-family home builds to tumble to the lowest level in more than two years.
New single-family home projects have fallen to 4.7%, an annual rate of 892,000, the lowest level since May 2020, and are unlikely to see a rebound soon with mortgage rates at a 20-year high.
Rising Interest Rates
One of the biggest contributors to this downfall is rising interest rates, forcing potential buyers and developers to turn their shoulder on less than appealing value propositions. Expanding on the state of this trend, President of Imagine Think Tank, Armstead Jones gives his thoughts.
"We have seen a decline in single-family house bills because of inflation and because of high interest rates. Those interest rates affect buyers and their affordability. The inflation affects home builders who are worried about potential profit and losing money if they build projects. So, both are just sitting on the sideline waiting for interest rates to come down and inflation to come down. That's why we see a decline in single-family house bills over the last two."
Future Outlook
While buyers and developers 'sit on the sideline' waiting for these interest rates to drop, is this in fact a viable option?
Eddie Martini Strategic Real Estate Investment Advisor at PropertyCashin discusses a range of scenarios that will dictate the way buyers navigate interest rates into next year.
"It'll be very interesting to see where our interest rate's going to be at the beginning of next year, and into that second quarter of next year.  How is that going to affect things? If pricing continues to stay at this level point and doesn't have any drastic dips, that consumer confidence of 'is this a good time or not to purchase' is going to be lingering.
Without that consumer confidence that this is a good time to purchase real-estate, we're going to continue to see properties sit. And again, new home construction those companies, they do not want inventory sitting. Carrying costs kill."
Market Confidence Takes A Dip, Too
Homebuilder confidence has continued its downward spiral after October results confirmed that builder sentiment in the market for newly built single-family homes fell to 38 points. Eight points lower than September and half the level it was 6 months ago, Strategic Financing Advisor Doug Perry from Real Estate Bees believes higher interest rates among other factors are to blame for these conditions.
"I'm not surprised that housing starts are at a two year low, further evidence that the housing economic cycle is turning to the down. The markets that saw the baker's appreciation rates are also poised for and have the room for some of the biggest downturns in terms of home prices. Further evidence that higher interest rates, tight economic conditions, including job losses, even the news of layoffs, causes potential home buyers to tap the brakes on the biggest purchase in their lifetimes, their homes, and maybe rent a little bit longer than they had before. That's evidenced by the fact that the multi-family starts remain strong."
Latest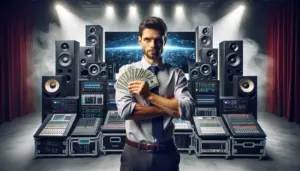 December 8, 2023
Mastering AV sales strategies in a global professional audio-visual (Pro AV) market, poised to reach $79.2 billion by 2028, requires much attention to detail. The surge in demand from corporate, government, and institutional sectors, driven by the need for enhanced productivity and efficient working environments, gives AV sales pros a lot of opportunity. In […]
Read More