The Art of Architectural Branding: AGI's Commitment to Quality and Durability
In today's fast-paced and ever-changing world, building owners and general contractors face numerous challenges when it comes to creating a lasting impression. That's where AGI Architectural branding steps in, offering innovative solutions that redefine the way we think about exterior imaging. With over fifty years of experience, AGI has become a leader in the signage and identity products industry, serving Fortune 500 companies across America.
Randy Watts, the senior vice president and general manager of AGI Architectural branding, knows the importance of delivering excellence. Born into the industry and following in his father's footsteps, Randy's passion for the architectural arena is unmatched. Having spent his entire career with AGI, he takes great pride in the organization's integrity and the products they provide.
AGI's journey into the realm of exterior imaging was driven by customer demand. Randy recalls how their automotive customers, among others, urged them to explore this new frontier. Recognizing the need for a product that would exceed expectations, AGI embarked on an extensive research and development journey, resulting in their pressure equalized rain screen system.
What sets AGI's rain screen system apart is not just the use of ACM (aluminum composite material), but the meticulous design and engineering that goes into the entire installation process. The AGI team left no stone unturned, working closely with independent labs to ensure their product met and surpassed North American standards. With rigorous testing, including resistance to high wind pressures, missile penetration, and moisture infiltration, AGI's rain screen system emerged as a superior choice.
AGI's commitment to quality and durability is evident in their comprehensive warranties. With a five-year bumper-to-bumper warranty on material and labor, and a twenty-year pass-through warranty from ACM suppliers, AGI's confidence in their product shines through. Their attention to detail and project management excellence further solidify the trust they establish with general contractors.
Weather conditions vary across the country, from the intense storms of Key West, Florida, to the freezing temperatures of the North. AGI's rain screen system is engineered to withstand the harshest environments, surpassing Florida's stringent criteria and extending its performance to every corner of North America. Expansion and contraction, a common challenge in different climates, were carefully considered during the system's design, ensuring longevity and resilience.
For general contractors, partnering with AGI means mitigating risk and delivering on brand standards. AGI's full complement of services, including architectural services, engineering, manufacturing, and project management, provides a seamless experience from start to finish. By manufacturing their products in a controlled facility, AGI ensures consistent quality and eliminates potential issues that arise from on-site construction.
As Randy highlights, AGI's focus on maintaining the confidence of both general contractors and end-users is paramount. Their deep understanding of brand standards, honed through years of collaboration with major automotive, banking, and retail companies, ensures the preservation of each customer's unique identity.
AGI's dedication to excellence resonates in their proven track record and unwavering commitment to customer satisfaction. With AGI Architectural branding leading the way, the art of architectural branding has reached new heights. Through their pressure equalized rain screen system and innovative solutions, AGI continues to redefine the industry, one building at a time.
And now, let's welcome Randy Watts, the senior vice president and general manager of AGI Architectural branding, to delve deeper into the fascinating world of architectural branding and the transformative power it holds for building owners and general contractors.
Latest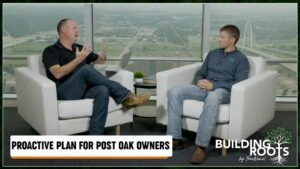 September 25, 2023
In this informative video, we delve into an exciting proactive program for post oak owners known as the TreeNewal Process (TNP). Join us as we explore how this innovative approach is revolutionizing tree care and nurturing healthier, long-lasting trees. Wes Rivers explains maintaining tree health is of paramount importance, and TNP offers a […]
Read More