The Importance of Wellness in the Workplace
Sustainability, transparency, wellness and resiliency are the pillars of the green building world. Host Daniel Huard, the Godfather of Sustainability, collaborates with the experts around the world focusing on green design.

Wellness matters. Yoga sessions and meditation are great, but wellness can expand far past fitness and self-care routines. How we work affects our wellness greatly.
Daniel Huard, Host, Build For Impact, spoke with Jeff Allen, Founder and CEO, The Well Learning Library, who knows a thing or two about wellness and leadership. Through highly engaging education, building occupant surveys, and data analytics, The WELL Learning Library provides building occupants with the knowledge and skills to optimize their health and well-being, while also providing building and organizational stakeholders with insights to improve their workplace strategies and building design and operations.
Allen reported that his team is trying to make The Well Learning Library accessible to all and is doing that in a way where they can keep their prices as low as possible so that people can afford to access the platform and services. "How can we contribute and give back? So, we're looking at those as we continue to evolve the company," Allen said.
Allen believes that wellness goes beyond fixing health problems. He asks the question, how do we create a sustainable practice and a sustainable lifestyle where we are taking responsibility for and making active choices to improve our health and well being outcomes? "So this is, you know, a holistic state. It's at the physical, the mental, the emotional, the spiritual, the social, even the environmental levels. So, I see wellness as something that it's all interconnected," Allen said.
For more insight on wellness in the workplace check out the latest episode of Build for Impact!
Latest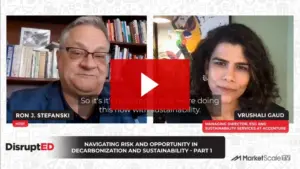 September 26, 2023
The global conversation has shifted dramatically towards decarbonization and sustainability in recent years. With the world experiencing unprecedented levels of disruption, from 5G technology to the challenges of a pandemic, the urgency to address climate change and its implications has never been more palpable. Although most business leaders see the vision of Sustainable Development […]
Read More