Windowless Bedrooms in NYC? Here's Why Architects Are Saying No
The current housing crisis is prompting authorities to consider a range of solutions, including a rather controversial one: Allowing windowless bedrooms. In March, New York Mayor Eric Adams courted controversy by suggesting that tweaking building codes could make it easier to convert offices into apartments. However, some architectural experts are saying no to windowless bedrooms — and this is why.
Windows have been required in all bedrooms in New York City since the late 19th century, when authorities began clamping down on cramped tenement residents. Emily Gallagher, a member of the New York State Assembly, pointed out the reason: To reduce the health impacts of indoor pollutants and curb the spread of infectious diseases. Experts from the industry are also pointing out the importance of windows during emergency situations like fires. Plus, many believe that access to adequate ventilation and sunlight should be a necessity, not a luxury.
Award-winning architect and interior designer Carol J Weissman Kurth, who serves as the Principal of Carol Kurth Architecture + Interiors, breaks down the many reasons that experts are saying no to windowless bedrooms.
Carol's Thoughts
"Hi there, Mayor Adams. I'm Carol Kurth. I'm an architect and I'm responding to your conversation about the concept of having no windows in bedrooms. I hope we can shut this down before it gets too far. I think the idea is just inhumane and reminds me of the idea of warehousing people in dark spaces, non-ventilating spaces. It kind of sets us back to a hundred years ago, when the laws were created for New York City so that people would have access to light, ventilation and clean air, so that that promoted health and safety.
Just think about a windowless room and what it does to your mood and how depressing that can be. We have mental health issues already. I think that would just compound them. Think about life safety. What about the firefighters who need to access people trapped in a building, or if you need to get out. On top of that, think about the ramifications of cost and energy. Putting in mechanical ventilation to create a space that has enough ventilation is costly and it takes up a lot of space. And from an affordable housing standpoint, that just makes no sense to have people pay for the electric bills. Let's just stop this right here. Let's shut it down, put in a window, and open that up. It's the simplest, safest, and most cost-effective."
Article written by Aarushi Maheshwari.
Latest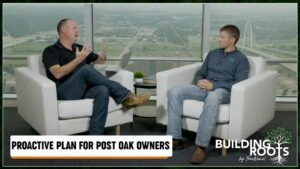 September 25, 2023
In this informative video, we delve into an exciting proactive program for post oak owners known as the TreeNewal Process (TNP). Join us as we explore how this innovative approach is revolutionizing tree care and nurturing healthier, long-lasting trees. Wes Rivers explains maintaining tree health is of paramount importance, and TNP offers a […]
Read More