Every Security Threat Can Be Placed on a Map. GIS Tech is Helping Deter Those Security Threats Through Context and Visibility.
This year's GSX (Global Security Exchange) trade show saw a large number of companies meet up in Dallas, Texas to talk about global security trends, tactics, and the latest solutions, fostering a space for professionals to connect and collaborate. And in an era where businesses and communities are more vulnerable and threats are more multifaceted, the need for comprehensive threat management has never been more pressing. From natural disasters to reputational risks, companies must be equipped to identify and respond to a myriad of challenges. One of the major solutions for companies lies in the power of Geographic Information Systems, or GIS.
The power of location intelligence and GIS is revolutionizing the way we perceive and manage high level challenges. By intersecting asset data with potential threats, GIS provides a holistic view, enabling decision-makers to act swiftly and effectively. Moreover, the integration of public and private sectors through GIS fosters a collaborative approach to security, bridging gaps and enhancing information sharing. To delve deeper into this transformative approach, experts Michael Macarilla (Security Operations Account Executive) and Carl Walter (Director of Homeland & Corporate Security Solutions) from ESRI offer invaluable insights into the world of enterprise threat management and the pivotal role of GIS.
Michael and Carl's Thoughts
What solutions are you showcasing at GSX?
Carl: "ESRI, at its foundation, is a GIS company, that stands for Geographical Information System. And while we are in every market for our week here at GSX, we're very focused on the security market, and more specifically, the corporate security market. And we, as a technology, as a system, we sort of follow some of the standard security methodologies of collect, analyze, exploit, disseminate, share, and reevaluate. And we align that to different workflows, like executive protection, situational awareness, intelligence and analysis, physical security, and provide geospatial intelligence capabilities to this market worldwide."
Michael: "One of the key points that we're presenting here is an enterprise threat management tool that is bringing in asset data for the companies that use the tool, and intersecting that with threats that may affect that business. And from there, we set up geofences and filter out noise, so operation centers can make intelligent decisions about threats that may impact the business, follow workflows, from left a bang all the way through to right a bang."
What are the most prevalent security risks?
Michael: "So every business, every corporation has that duty of care for both their employees and the well-being of their corporations, right? So when we talk about enterprise threat management, it's not just a security risk, it could be a risk to their reputation, it could be a natural hazard risk, it could be a financial risk, and so forth. So when we ingest all of that data into this threat management solution or tool, it allows for those decision makers not just to look at those security issues that are very common here at GSX, but any type of threat that may impact the business. That bubbles right up to the C-suite, because the C-suite has that responsibility to make sure that the company's assets, whether they're employees, bricks and mortar, reputational, are all protected.
Carl: "Twenty-two years after 9/11 were, you know, early on in all the documentation that was collected after the attacks, information sharing came first and foremost as what went wrong with U.S. security policy. And one of the great things about our technology is we are so deep in the government security space, we are now getting very deep in the corporate security space, and what they call the home and security enterprise is local, state, federal, DOD, IC, and corporate security. And what I see the most important trend that we're trying to reach is connecting those communities to the power of location intelligence and GIS."
Why is cross-industry collaboration an important trend?
Carl: "Well, if you think about it, certainly our nation's critical infrastructure, but probably globally, is owned and operated by the private sector. So an oil company, a public utilities company, a water and sewer company, telecom, they are privately owned and ran. And then we have the government that's trying to protect our communities, not just domestically, but globally. Those worlds have to be interconnected, those worlds have to share information, and there was a time where it was hard to do that technology-wise. But today, with the collaborative capabilities of GIS technology, it's no longer a technical limitation, it's a policy and internal organizational decision on how they connect. And that's still a work in progress this long after 9/11, and we just keep continuing to preach that chip away at the iceberg and promote cross-organizational information sharing."
Michael: "If you think about post-9/11, when the government set up, DHS set up fusion centers in every state, right? And that was bringing in public sector agencies all into one bricks-and-mortar location so they could collaborate. What we're trying to do is expand on that, right? So you've got the private sector also feeding information into and receiving information back out of those fusion centers, for example. And it's not just limited to the fusion centers, but that's a great example where when we can collaborate and share information back and forth on new threats, it could be something as simple as bringing in live camera feeds from a private sector institution, right? And sharing that during critical events, such as a large sporting event, right? At a real-time crime center, at a fusion center. So, again, bridging that public-private sector gap just helps protect the enterprise even more so."
Carl: "Michael and I both had the honor and privilege–we didn't know each other at the time. I was a fusion center director in Boston. He was a fusion center director in Vermont. Just a couple states away, we never knew each other, but we had actually done operations in the same city. We found that out much later, but Michael mentioned the bricks-and-mortar philosophy of a command center and of command and control. And one of the other trends that we're seeing, we have a lot of room to grow, is levering technology in a way that's distributed and not requiring people to show up in a facility that could get taken down from a critical event, from a weather event, from a pandemic. People can't come to work. What do they do? So, with the power of location intelligence and Web GIS, you can run that operation anywhere, as long as you have access to a browser. And we came across companies in our work with ESRI, government agencies and private agencies, that were building redundant two and three additional centers, security operation centers, to deal with how they got shut down during the COVID pandemic. And what we're trying to preach is, in today's day and age, with remote workers, with a new mindset of, "hey, I don't necessarily want to come into the office five, six, seven days a week." Security is a little different, obviously, but the flexibility that's available now with technology and Web GIS is you can do a virtual command center from anywhere, as long as you have access to the web."
What role does GIS play in the larger security ecosystem?
Carl: "So, we see GIS as a foundational security capability. GIS is a system. It's not a point solution. It's not a plug-and-go. It's a system that can be configured to any workflow, certainly any security workflow. But we see it as a collaboration platform, an analytical platform, a data management and data storage platform. And all together, we feel that that capability is one platform that can support any mission."
Michael: "Every asset has a location, whether it's fixed or mobile, right? You can find any asset on a map, and we can follow those assets, again, if they're fixed or mobile. Any incident that occurs, whether it's natural or man-made, occurs at a specific spot. So, GIS takes those two dots and intersects where the threats and the assets are co-located, and then decisions from there can be made. So, GIS is fundamental in preparing for and responding to any type of incident, because every incident can be placed somewhere on a map."
Article by Rafael Abreu
Latest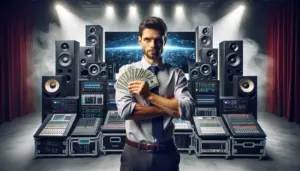 December 8, 2023
Mastering AV sales strategies in a global professional audio-visual (Pro AV) market, poised to reach $79.2 billion by 2028, requires much attention to detail. The surge in demand from corporate, government, and institutional sectors, driven by the need for enhanced productivity and efficient working environments, gives AV sales pros a lot of opportunity. In […]
Read More