April Showers Bring More Than May Flowers
Just as warmer weather and rising humidity can affect mood and clothing decisions, it can also impact the performance and appearance of walk-in coolers or freezers. That's why spring is the perfect time to assess equipment for potential problems to ensure optimal operation during the long, hot months of summer.
Failing coolers or freezers can result in massive financial losses. However, Ben Franklin once quoted, "An ounce of prevention is worth a pound of cure," and there's no better time than spring to perform a preventative checkup.
Spring Checkup Checklist
Check for Undesired Condensation:

As spring temperatures warm, the air will hold more moisture and dew point temperatures will increase. As moist air enters a walk-in and is chilled, condensation or frost can appear. This typically occurs on strip curtains, or, if no strip curtains are present, snow or frost may build up and accumulate on product, walls, doors, and racks.
Examine strip or air curtains to ensure all air blocking parts are working properly.

All vinyl strips are in place and sealing to one another
Torn or damaged strips are replaced
The strip curtain is properly sized for the door.
Adjust air curtain vanes to ensure properly positioned.

 Discover Moisture Access Points:

 To check that door seals and gaskets are properly sealing, enter the walk-in, close the door, and turn off the unit's lights. Replace seals and gaskets that allow light to seep in.
 Moist air can enter beneath door sweeps if improperly set. Use a screwdriver to accurately adjust door sweeps as necessary—they should be raised or lowered to ensure proper contact with the threshold
While mitigating losses after a failure demonstrates skill, preventing losses in the first place demonstrates intelligence and business acumen. Prevent expensive breakdowns and extend valuable equipment life—prepare for the dog days of summer with a thorough inspection of walk-in coolers and freezers.
To address excess condensation or any equipment maintenance need, contact KPS Global®, the industry-leading manufacturer of insulated panel systems, supplier of aftermarket parts and replacement equipment, and provider of seamless installation services. Their factory-trained service technicians have over 250 years of combined experience and all their work is backed by a 90-day labor warranty. Learn more about KPSG field service solutions at https://kpsglobal.com/services/field-services-tech/.
Read more at kpsglobal.com
Latest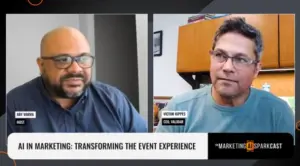 November 28, 2023
AI has been gradually changing the landscape of event technology at a very rapid pace. In an industry where staying ahead of technological trends is crucial, AI's impact on marketing and event management has become increasingly significant. As witnessed in the rise of account-based marketing and enhanced personalization, AI is effectively reshaping how events […]
Read More