Battling Roof Issues at School
Tired of battling the same roof issues on your schools with traditional industry solutions? A solution for school districts wanting guaranteed performance from their roofs within a tight budget:
Recently, elementary students in the Midwest, found themselves without a school when one of their elementary schools was shut down due to storms that resulted in extreme roof leaks.  The displaced students were forced to relocate when consultants and contractors made the unfortunate determination that the school would need to remain closed until significant roof repairs could occur.
So, what's a school to do when faced with an unexpected repair that becomes such a costly and time-consuming endeavor? And, with the case of this school, it was only a single building. What if the entire district needed had immediate roofing needs? School budgets are tight as it is, and roof repair and other routine maintenance are often put aside as other, more visible tasks and financial concerns are prioritized. Let's face it: while roof replacement is the single biggest ticket item in any building's financial blueprint, in most cases, they are out of sight and out of mind. Regrettably, many school districts, if not most, are unprepared and underfunded to tackle their accumulating roof problems head-on.
The Financial Burden Falls on the District and Taxpayers Alike
Take, for example, a middle school in Pottstown, Pennsylvania. While its respective school district was able to trim the cost down on a recent roof project through value-engineering by $40,000, the taxpayers were still left to cover over $2.5 million to get the job done. Roof replacement efforts are not only financially crippling for a school district, but the community as well. Simply put, there needs to be a better solution to traditional repair efforts that don't carry a warranty and very costly, disruptive roof replacements. Enter Fortis.
Fortis, the specialty warranty company, combines financial expertise and roof management expertise to provide a better way to extend roof life and guarantee roof performance, culminating in significant savings and peace of mind for the customer. This provides a faster and more financially feasible option to a standard roof replacement. Instead, Fortis offers an extensive and proprietary roof reconditioning alternative as well as a new and better warranty for less than a third of the cost of a complete roof replacement, more comprehensive warranty terms, and a stronger financial guarantee than all industry manufacturers combined. Reconditioning, as opposed to replacement, ensures that there are substantial upfront savings, both in terms of money and time. Plus, with its exclusive warranty, Fortis stands behind the roof's performance by guaranteeing its customers that there won't be any unexpected repair costs during the warranty period. Expressed another way, significant savings, stronger guarantee, budget certainty, and peace of mind.
When Fortis' robust underwriting process determines that a reconditioning solution isn't a good fit, they have a New Roof Warranty program for replacement. Assembling brand name materials from a variety of manufacturers, certified Fortis contractors can replace an entire roof for more than 20% less than the competition, along with a level of protection that can't be matched.
Cutting the Red Tape on Customer Warranties
Many manufacturers issue warranties riddled with disclaimers, using intricate wording that is often misconstrued, providing a plethora of opportunities for claims to be denied. In a school system with a tight budget, it could be devastating for a claim to be rejected due to a seemingly minor defect or oversight, such as the number of inspections indicated in the warranty not being completed as specified. Further: defects, alterations or modifications (such as the installation of utilities, HVAC, or a solar panel systems), and even repair work performed by non-qualified contractors, can result in a voided warranty. Even damage that is the direct fault of a qualified technician or roofer can result in a denied claim. Traditional manufacturer warranties are a risky gamble that school districts simply cannot afford to make.
About Fortis Warranty
Fortis Warranty has a proven track record with its industry-changing solutions. Through experience, proprietary FRRA inspections, unmatched reconditioning standards, and using scientific analysis of roofing materials to more precisely estimate their useful life, Fortis has been able to confidently write commercial and institutional roof warranties for more than 15 years. Fortis warranties were developed to combine financial certainty with guaranteed roof performance. Several industry studies have shown that roughly 80% of commercial roofs are replaced prematurely. Fortis Warranty advocates for the customer and our EW solution focuses on extending the life of an existing roof, guaranteeing their performance, and providing the customer with budget certainty and peace of mind.
Latest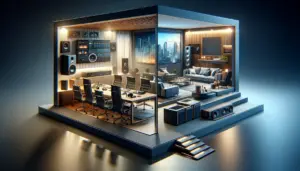 November 27, 2023
In this episode of "Pro AV Today," host Ben Thomas sits down with Audra Kinsley of Sonos Professional to unpack a topic that's causing (sound) waves in the audio industry: the fusion of commercial and residential audio systems. As we navigate through a landscape where consumer and professional audio worlds are increasingly intersecting, Sonos steps […]
Read More