Iron Fox: Investing in Car Washes for Fun and Profit
If you've got money to invest then you might consider parking it in the stock market or buying a piece of real estate. But increasingly, more and more investors are adding car washes to their portfolio. On this week's episode of The Iron Fox Podcast, company president Dominic Lewinsohn shared what attracted him to the car wash industry and how it has become a hot investment play.
Lewinsohn revealed he got his start at Boston Market before creating his own restaurant group. From there he transitioned to a career on Wall Street to head up a consulting firm. Always on the hunt for new opportunities, the car wash industry caught his eye.
"I was able to look at the financials of car washes and that was very appealing to me," Lewinsohn said.
Of the three industries he's worked in, he said car washes are the most fun but also the hardest. The business requires a technical background to handle the logistics of the tunnel, exceptional customer service, and a keen understanding of how the financials work.
He went on to explain that there are three types of tunnel car washes. With the express version, the customer's car goes through the tunnel and they vacuum it themselves. Full service includes detailing and hand-washing by attendants. And flex offers customers the option of either self-service vacuuming or service by attendants. Each has an important place in the car wash ecosystem.
"The reason express is doing so well at the moment is because the labor from an investor standpoint is very, very low," Lewinsohn said.
Subscription plans where customers pay a monthly flat fee for unlimited washes have taken off over the last eight years. Operators like the model because it provides a steady stream of income that they can use to hire a stable labor force. Lewinsohn thinks people with a hospitality or foodservice background do well with car washes because they go from an industry with many costs to one with just two, labor and chemicals.
Lewinsohn said that the industry is becoming more and more competitive, but it remains a lot of fun.
"The returns on investment are superb if executed properly," he said.
For the latest news, videos, and podcasts in the Building Management Industry, be sure to subscribe to our industry publication.
Follow us on social media for the latest updates in B2B!
Twitter – @BuildingMKSL
Facebook – facebook.com/marketscale
LinkedIn – linkedin.com/company/marketscale
Latest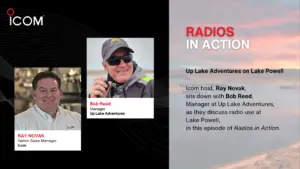 November 29, 2023
Delving into the serene beauty of Lake Powell, the Icom Podcast "Radios in Action" pairs the thrill of personal watercraft adventures with the crucial use of marine radios. Host Ray Novak and Bob Reed, the Manager of Up Lake Adventures, discuss the enthralling experiences offered by Up Lake Adventures in Utah's majestic landscapes. In […]
Read More