Change Up Your Laundromat to Increase Revenue Stream
Oh, the drudgery of laundry. Nobody wants to do it, but it's a necessity of life. Laundromats are a convenience, but often considered dreary and monotonous for users. With more than 35,000 laundromats in the US alone, there are common challenges among them: standing out from the crowd, appearing inviting and welcoming, and providing an additional stream of income to boost the bottom line. Overcoming these obstacles can be accomplished with a simple solution–– add-on services, of course!
Machine Option Upgrades
Rather than the standard washes for standard prices, washers and dryers that offer settings other than hot, warm, and cold, and timed drying, provide unique capabilities not typically found in most laundromats. New Front Loading Washer/Extractors typically provide more wash options, such as longer wash or extra rinse cycles, pre-soak or gentle care cycles, permanent press, and more. Most people prefer to care for their clothing according to tag recommendations to ensure longer wear, making them highly amenable to paying extra for these upgraded features.
Laundry Care and Food & Beverage Vending
Users often forget their laundry products or don't want to lug heavy detergent bottles and boxes of softener around with their laundry baskets. Installing vending machines that offer single-serve laundry supplies, like laundry detergent, boxes of dryer sheets and bottles of fabric softener, circumvents this necessity. In addition, newer laundry vending systems have the capacity for full-sized containers, providing extra convenience for customers doing larger or multiple loads. Further, snack, soda, and coffee vending provide an easily accessible means to quench the customer's first or satisfy their hunger. Vending machines are a source of long-term revenue, and can be bought new or used and even leased—pick the solution(s) that works best for your location and clientele.
Entertainment Alternatives
In addition to TV's and/or free Wi-Fi, adding arcade games in your location can provide multiple benefits. For parents struggling to do their laundry while keeping an eye on their children, video games offer an entertaining diversion to delight kids and parents alike. And for those grown up gamers, arcade options provide a fun distraction while waiting for their cycles to complete. More importantly, video games provide additional cash flow for you.
Encourage Patronage With Add-On Services
The typical laundry cycle is 60 to 90 minutes. Capture the attention and business of your clientele by providing the necessary products, the munchies, the entertainment, and the multi-tasking opportunities. These will keep your clients returning and draw in new customers via add-on services that are unique to your location. Consider your demographics, your location, and clientele—with the proper research, your laundromat can become more than a dreaded, boring location where they perform a much-bemoaned task. And with change machines and token machines from Standard Change-Makers, Inc., your clients have the accessibility to on-site change-making that ensures your add-on alternatives are convenient to use.
Standard Breaks the Change-Making Standard
With over 60 years of experience in the industry, an experienced and knowledgeable service and support team that works with distributors serving local markets, change-makers from Standard are designed for many years of reliable operation. In fact, our techs regularly service many Standard machines that have been in the field for more than 20 years.
Go beyond the typical offerings of the coin-op laundry. Stand out from the competition by offering the add-on amenities your customers want, complete with the change-maker they need. Standard Change-Makers—we make change happen! Visit our website to learn more about our long-lasting, dependable products.
Read more at standardchange.com
Latest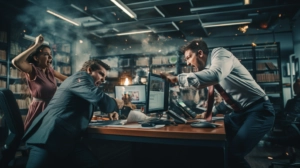 September 22, 2023
The kind of news that is delivered everyday serves as a grim reminder of the escalating violence across the U.S. Evidently, the need for proactive measures to ensure safety has never been more pressing. Such violence is not limited to any particular locale. It's actually permeating in so many different areas once considered […]
Read More