Chemical Customization Positively Impacts Carwashes
They say it's all about good chemistry, and nowhere is this more true than in modern car washes. From soap, chemicals, and the right equipment, the interaction of these elements determines how clean a vehicle will look after it leaves the carwash. Knowing the science behind the chemistry allows carwash owners to make informed product and equipment decisions that can enhance wash results and garner impressive cost savings.
Soap On, Dirt Off
Today's carwash soaps outperform older offerings in many ways. The advanced chemicals used deliver superior cleansing effectiveness with tailored ingredients that better penetrate and lift dirt, removing various soils, contaminants, and environmental oxidation from vehicle surfaces. Further, concentrated chemistries in smaller, recyclable packaging maximize the number of vehicles that can be washed per container while reducing transportation, storage, and carbon footprints. Moreover, their greater penetrating and unbinding capabilities allow carwash operators to use less water per vehicle.
Once the soap cycle is complete, the surface is ready for a protectant. These protectant formulations––such as self-curing polymers––provide maximum lubrication and protection, creating a sacrificial barrier that prevents subsequent environmental damage to the vehicle's finish.
Customizing the Chemistry
Soap is no longer a one-size-fits-all solution. Deciding on the best presoak, tire & wheel cleaner, detergents & soaps, and waxes & protectants are vital to maintaining your carwash at peak performance.
Presoaks, along with other chemicals, come in low-pH and high-pH variations. A high-pH presoak is an alkaline product formulated to remove oily and greasy compounds, while a low-pH presoak is an acidic product formulated to remove dirt and dust. Understanding the common soil type in your geographic region will help you decide which pH will be more successful in your carwash.
Tire and wheel cleaner come in both alkaline and acidic variations and remove both organic and inorganic soils from brake pads, abraded rubber and more. Many drivers have custom wheels on their vehicles, so it's important to use products that are safe for both OEM wheels and aftermarket wheels.
Available in either standard red, gold, and blue or custom colors, triple foam products come as conditioners or polishes. Conditioners help clean the car, but polishes also apply a layer of wax, with most carwashes typically running the conditioner first followed by the polishing wax. These neutral or acidic products condition and prepare the vehicle's clear-coat to accept sealant and protectant products while also expediting the drying process.
Injector and tip sizes are integral in determining the chemical to water ratio. These components can be modified to achieve the proper titration and dispense of chemicals and water, as well as color vibrancy.
Cutting Costs
Chemicals are a significant reoccurring expense for operators, so effective utilization—using the appropriate ratios of cleaning and finishing products during the proper phases of the process—can provide greater output and increased savings. But beware—even small changes in chemical dosing can create issues, preventing a car wash from achieving clean, dry, and shiny vehicles. By maintaining the right chemistry balance, you can ensure cost-efficient, peak performance every time.
Water usage can also be costly. As nozzles wear, water flow increases, pressure decreases, and chemical concentrations degrade, resulting in an inferior clean and higher water use. Installing water reclamation systems that recycle and purify wastewater for reuse can reduce both water consumption and sewer costs. However, it's essential to incorporate reclaim-friendly cleaning products—which can alleviate foul odors, bacteria growth, and clogging—to ensure the system's performance is not affected.
Operators should also establish weekly checks of all chemical metering equipment to ensure injection equipment is properly functioning. Simply marking container levels on a weekly basis will alert the operator of unexpected changes in dosing, allowing for the resolution of any chemistry issues while ensuring inventory is on hand when needed.
Iron Fox focuses exclusively on helping investors, entrepreneurs, and existing operators in the conveyor carwash segment. Our Senior Consultants have extensive experience with retail real estate site selection, accurate proprietary volume estimating tools, project development, and all aspects of car wash operations. With an experienced equipment installation team and responsive service crew, Iron Fox not only gets you up and running, we keep you that way! To learn more about our services, click here.
Latest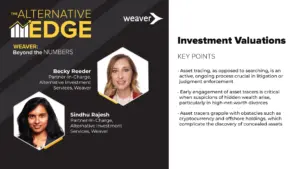 December 4, 2023
In this episode of The Alternative Edge, a Weaver: Beyond the Numbers Podcast, host Becky Reeder, an audit partner and co-leader of the alternative investments practice at Weaver, engages with Sindhu Rajesh, an Alternative Investment Services Partner with Weaver. They unpack the complexities of venture fund valuations, offering critical insights into industry dynamics and best […]
Read More