An Honest Look at the Top Car Wash Equipment Suppliers
For entrepreneurs new to the carwash industry, it's an almost impossible task when it comes to comparing equipment manufacturers. While polling existing carwash owners would seemingly net some type of popular consensus, existing operators tend to stay with one brand, and the majority of these operators only have one location, thereby limiting their exposure. Distributors will have a broader context of opinions; however, most are provided short-term incentives by equipment manufacturers, and tend to place more value on the sale than an extended relationship with carwash entrepreneurs.
The truth is, when the annual volume is less than 120,000 cars (which is the typical average for most new or existing carwashes), each manufacturer's equipment will do an almost equally adequate cleaning job. Alternatively, the differences are more visible when the volume is over 120,000 cars per year because:
The carwash line speed is accelerated;
More frequent maintenance, repairs, and/or replacements are required; and
The cost for manual labor to compensate for inadequate wash performance increases significantly.
If you have recently opened for business and/or committed to a particular brand, rest easy. For the short-term, or at least for the first year or so, don't sweat the $10,000 equipment deposit or the buyer's remorse associated with new, shiny equipment. But if you haven't already purchased, or committed to purchase, new equipment, read on for a comprehensive look at the pros and cons of the leading equipment manufacturers.
SONNY'S
Sonny's is the undisputed US market leader. They are often cited as the Wal-Mart of carwash equipment, but to be fair, this comparison is somewhat skewed—Sonny's quality can definitely be ranked higher than Wal-Mart's, and their pricing isn't nearly so low. Overall, though, Sonny's is a great option for most, particularly those with a build and flip mentality.
Pros:            The equipment has a relatively simple design, and parts are plentiful. This can be a very beneficial advantage to keep in mind as all equipment requires regular maintenance, and Sonny's basic design allows more people to perform service, decreasing downtime.
Cons:            Unlike MacNeil Wash Systems (see below), cleaning the back of SUV's requires additional equipment with Sonnys, putting their upfront costs at the middle of the pack, and a less effective option for shorter tunnels (less than 120').
MACNEIL WASH SYSTEMS
Coming in right behind Sonny's at the #2 spot in overall US market share is MacNeil Wash Systems. MacNeil is known as the heavy-duty choice, earning this accolade for their reliable performance, solid engineering, and innovative conveyor design. And their SuperFlex wraps have garnered MacNeil many enthusiastic client endorsements. With MacNeil, compared to similar tunnels producing similar wash performance, less equipment is required, keeping their pricing at about mid-range, and making them a good choice for shorter tunnels (less than 120').
Pros:            Without an operational conveyor, most carwashes are forced to close, making the reliability and durability of MacNeil a huge advantage. In addition, because they are engineered with additional joints that allow for complete coverage of an entire vehicle, including the back of an SUV, a MacNeil robotic SuperFlex Wrap-Around (also known as an articulator wrap) can perform the same job as the two sets of gravity wraps that are typically employed in most carwashes. This translates to less equipment, easier upkeep, and more usable space while creating an impressive short tunnel (less than 120') wash performance.
Cons:            Because SuperFlex wraps have more moving parts than most competitor wraps, when glitches occur, the services of an experienced technician or an exceedingly competent manager will be required. While the overall design allows for equipment consolidation, it also concentrates risk in the case of equipment failure—if one set of gravity wraps fails, during repair, you still have a working wrap that will allow for a partial carwash; if your single SuperFlex Wrap-Around fails, your entire tunnel shuts down until repairs are complete.
BELANGER
Belanger has been a respected name in the industry since 1969, and is known for their focus on engineering. While this puts them on the higher side of the cost spectrum, they are still not out of line with the competition. Operators typically like the brand, and Belanger tunnels are proven to stand the test of time.
Pros:            Operators have been known to brag about Belanger's QuickFire wraps which are capable of cleaning the back of an SUV at a very rapid line speed, making this a viable solution for high volume sites. They also boast an extremely solid research and development department, as evidenced by their SpinLite lineup which incorporates LED lighting into the equipment itself.
Cons:            Modest operators, whose equipment package is the greater percentage of their total budget, may use Belanger's engineering focus against them, claiming that the equipment is sophisticated for sophistication's sake, and unnecessarily expensive.
TOMMY CAR WASH SYSTEMS
Tommy's isn't actually a manufacturer. It's a national distributor for A.V.W. Equipment, which is then rebranded under Tommy Car Wash Systems. However, the methodical marketing within Tommy's franchise-like structure, along with pre-designed buildings, and a unique product offering makes a distinct impression on new entrepreneurs.
Pros:            Although not inexpensive to build, there is value with the intellectual capital of Tommy's pre-designed building as it reduces potential costly design errors commonly made by new entrepreneurs. This can be a great option for those less interested in the branding associated with the building design process or less dependent on operational guidance after start-up.
Cons:            Tommy's incorporates a flat belt conveyor that when compared to a traditional conveyor, is approximately 2x to 3x more expensive both upfront, and for ongoing maintenance. This puts them at the higher end of the cost spectrum, making it a greater risk for those operators who anticipate more than average annual volume. In addition, while Tommy's engineering reputation can be considered adequate, it's not the superior engineering status found elsewhere. There is also the branding risk associated with competitors in nearby markets also employing Tommy's design.

THE IRON FOX DIFFERENCE
Iron Fox takes a different approach than most distributors, viewing the initial sale as an opportunity to establish a long-term partnership built on honest advice, backed by experience. Although under agreement with MacNeil, we at Iron Fox encourage first-time operators to shop around. The Iron Fox value extends well beyond opening day, as we strive to go above and beyond the competition and operators' expectations by offering maintenance contracts, training workshops for entrepreneurs and their managers, custom chemical packages, and so much more. Like our clients, we depend on repeat business and will not sacrifice long-term profit for short-term gains.
To learn more or start your journey contact Iron Fox today!
Read more at ironfox.co
Latest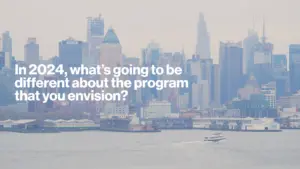 December 1, 2023
In the dynamic telecommunications landscape, Verizon's Partner Network continues to evolve, adapting to new trends and opportunities. For another segment featuring Mark Tina, VP of Indirect Channel Distribution and Channel Chief at Verizon Business Group, he explores exactly what types of significant changes and advancements the Verizon Partner Network will see in 2024. In this […]
Read More