NACS and AvaLAN: Advancing Convenience & Fuel Retailing
There are upwards of 154,000 convenience stores nationwide selling fuel, food and merchandise, serving 160 million customers daily, and garnering 10.8% of total U.S. retail and foodservice sales. With 2,100 retailer and 1,750 supplier members from more than 50 countries, the National Association of Convenience Stores (NACS) advocates for the industry. From motor fuels to credit card fees to labor to taxes, NACS represents the sector's role in federal government, and promotes convenience stores as positive economic, social and philanthropic contributors to the communities they serve.
The Conference
Returning to Vegas again this year, the NACS Show is the convenience and fuel retailing industry's must-attend event, and AvaLAN, a leading wireless technology solutions innovator and manufacturer, is excited to attend. Scheduled for October 7-10 at the Las Vegas Convention Center, the conference attracts more than 23,500 industry stakeholders globally, providing the ideal venue for buyers and sellers to converge and learn from industry experts, share with industry peers, and make new connections and partnerships.
The Expo
Segmented into six categories, including Fuel Equipment & Services, Food Equipment & Foodservice Programs, Candy/Snacks, Facility Development & Store Operations, and Merchandise and Technology, the 400,000 sq. ft. Expo brings together the latest in innovative products and services used and sold by convenience stores daily. Be sure to visit the Cool New Product Preview Room and discover recently launched products, services, technology and more. And to scout out products so new they haven't even hit the shelves, stop by the New Exhibitor Area. The Expo doors will be open October 8-10.
AvaLAN Products at NACS
The NACS Show represents the ideal opportunity for AvaLAN to exhibit their wireless EMV solutions to a wide audience. With a mission of innovating solutions for commercial and retail fueling stations, AvaLAN will be on hand in the Allied Electronics' booth showcasing their unrivaled forecourt products:
Wireless EMV:

  

Reliability-designed, the AW584EMVAP and AW584EMVSU offer secure local wireless networking connectivity to fuel dispensers. Integrated with secure network segment switching to ensure the security of customer credit card data, the dispenser's main CPU board connects to other ethernet fuel center devices like point-of-sale systems, merchant service gateways, and/or forecourt controllers,

 thus

 optimizing processes for streamlined operations.
Current Loop to IP Adapter: Using cutting-edge technology that ensures flexibility and adaptability to evolving network security forms, the AvaLAN Current Loop Adapter enables current loop and serial data communications to flow through a TCP/IP Ethernet network. Offering simple retail forecourt dispenser installation and the capability to transmit over wired or wireless mediums, the Current Loop Adapter maintains data integrity, thereby empowering a secure and reliable networking infrastructure.
Cloud Services: AvaLAN's easy to use cloud-based interface allows users to manage network switches at multiple sites, from their phones or tablets. With an intuitive dashboard that makes it effortless to add new MAC addresses, Avalan's cloud service facilitates remote management with reduced downtime.
The NACS show is rapidly approaching, offering learning opportunities ranging from best practices and reimagined business foundation design, to technology innovations such as AvaLAN's wireless EMV solutions. Come see the AvaLAN technology at the Allied Electronics booth #6902 and Control Scan booth #6372 to learn more about their superior EMV solutions ideal for any size convenience store or retail fueling station.
Read more at avalan.com
Latest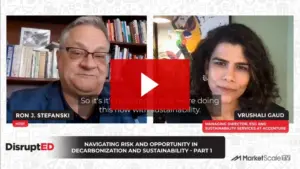 September 26, 2023
The global conversation has shifted dramatically towards decarbonization and sustainability in recent years. With the world experiencing unprecedented levels of disruption, from 5G technology to the challenges of a pandemic, the urgency to address climate change and its implications has never been more palpable. Although most business leaders see the vision of Sustainable Development […]
Read More