NATIONAL SAFETY COUNCIL CONGRESS & EXPO COMING TO HOUSTON, TX BREEZER MOBILE COOLING TO PARTICIPATE
National Safety Council (NSC) Congress & Expo will be held in Houston, TX this year. With over 14,000 safety professionals in attendance, it's hailed as the largest event for the safety industry. The NSC's mission is to eliminate preventable deaths at work, at home, and in the community through education and advocacy. With our dedication to keeping everyone safe and productive in extreme heat environments, we are excited to join the event as an exhibitor.
Attendees from safety, health, and environmental professions will be attending from 71 countries. This event is an opportunity to share new, innovative ideas around safety, focusing on what successful safety programs look like and how to execute them while keeping costs in check.
We'll be there in booth #3846 with our Power Breezer and O2 portable cooling solutions. Our equipment allows for cooler spaces inside and outside. We will be sharing important information with the safety community about the dangers of heat illness and steps for prevention. With our cooling solutions, the benefits are immediate. Cooler employees make fewer mistakes and sustain productivity levels. Keeping workers safe and comfortable is a win for all.
That's also what Jerry Condon, VP of Commercial Business Development observes and he comments "We have seen great ROI for companies in many different industries with our mobile cooling solutions. Our evaporative air coolers reduce mistakes, increase productivity, create a safe work environment and keep staff happy. At NSC, we're going to share how our temperature control solutions make this possible."
We look forward to meeting attendees from all over the globe and helping them achieve safer workspaces.
Be sure to stop by and visit us at booth #3846!
Latest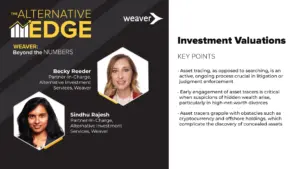 December 4, 2023
In this episode of The Alternative Edge, a Weaver: Beyond the Numbers Podcast, host Becky Reeder, an audit partner and co-leader of the alternative investments practice at Weaver, engages with Sindhu Rajesh, an Alternative Investment Services Partner with Weaver. They unpack the complexities of venture fund valuations, offering critical insights into industry dynamics and best […]
Read More