U.S. Bank Stadium Brings Energy Efficiency to The Super Bowl
This weekend, Minneapolis will get to show off it's new, energy efficient stadium on a national stage, when the Philadelphia Eagles take on the New England Patriots for Super Bowl LII.
U.S. Bank Stadium has a few green building checkpoints, including a state of the art roof is 60% Ethylene Tetrafluoroethyl (ETFE), a lightweight, clear, plastic-like material that reduced the need for structural steel. The sloped design enables snow to fall off the roof into a snow gutter, and it allows natural sunlight into the structure, giving it a natural, outdoorsy feel. But it's not just for aesthetics. The material allows for solar thermal heating that redistributes the warm air in the winter and pumps cold air in the summer for maximum energy savings.
Texas-based John Hutchings, HKS's sports principal-in-charge of U.S. Bank Stadium, says that the form of the building with its distinctive and asymmetrical, high-pitched roof is a direct response to the harsh climate of the Twin Cities.[1]
But the building doesn't just rely on the roof for energy savings, it has a water efficient irrigation system that reduces outside landscaping irrigation and the low-flow technology for plumbing saves the stadium about 5.67 million gallons of water per year.
This energy efficiency is one of the reasons that U.S. Bank Stadium is one of 88 structures in the U.S. that meet the LEED's Gold standards for energy efficient buildings.
Latest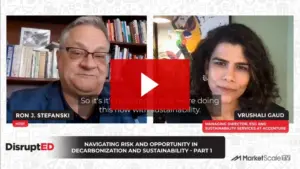 September 26, 2023
The global conversation has shifted dramatically towards decarbonization and sustainability in recent years. With the world experiencing unprecedented levels of disruption, from 5G technology to the challenges of a pandemic, the urgency to address climate change and its implications has never been more palpable. Although most business leaders see the vision of Sustainable Development […]
Read More