AI is Enhancing Video Management Systems For Better and Faster Security Measures
At GSX 2023 the evolving sphere of video management systems, analytics, and security were heavily showcased. The integration of AI combined with traditional surveillance techniques has made one thing clear: efficiency at the operator's desk is vital. As security industries increasingly utilize AI-enhanced Video Management Systems (VMS), faster responses to threats become the norm. 
Instead of navigating multiple applications, operators can now use connections that consolidate their tasks to create better efficiency. Moreover, the rise of LED technology is benefiting display quality, which in turn creates more clarity. As AI continues to dominate discussions and finds its way into camera systems and other tech, RGB Spectrum stands at the center and is playing a significant role in modern surveillance.
Joseph Castay, the Regional Sales Manager at RGB Spectrum, is an expert in the field of video analytics and its integration with AI. Having been actively involved in the development and promotion of niche products, Castay brings both passion and deep knowledge to the field and is ensuring that RGB Spectrum remains a frontrunner in solutions for security and surveillance. Speaking at GSX, he detailed how operator management is ideal for this work and the growth of video analytics.
Castay's Thoughts on AI in Video Management Systems
Video Analytics and AI Integration
"All the video analytics that's actually laid out on the BMS systems and that's where the AI is coming into play."
"Those VMSs have newer AI technology which are providing quicker responses to a situation. Could be someone rattling a gate or trying to get into the wrong door."
"At this show, as well as on the news stations, you're hearing about all kinds of artificial intelligence."
"The response we're getting back from folks visiting different camera manufacturers, we're hearing about AI this whole show."
"For us at this time, we don't have a lot of AI built in our product line, but that is probably coming down the future roadmaps that we expect."
GSX 2023 Technology Showcase
"So at the GSX 2023 we're here to show our KVM over IP extend point technology interoperable with our newer Xeo W4000 video wall processor."
"We're illustrating that the operator has focus at the desk but when there are situations that same information, that visual information, is being displayed as needed on the video wall."
Visual Awareness and Decisions
"That gives supervisory awareness to make better decisions faster. First and foremost visual awareness."
"That alarm needs to be triggered, presented, so that you can make a decision on how you're going to interact with that activity."
"You still need visual awareness. Sometimes the awareness is for one supervisor. Sometimes the whole room needs to work together and combine effort and that visual awareness is there so that they can make those kind of decisions for the particular activity at hand."
Operator's Desk Efficiencies
"Finding efficiencies at the operator's desk is one."
"The operator could be in a Genentech client or a Milestone client. They don't have to lead the client app. They don't have to switch from one application and do a task at another application. It's kind of built in."
"We're also seeing LED technology to displays come to the foreground. Prices are going down. Visibility resolution is better."
"So at the operator's desk, it's going to be efficient. They're going to be dealing with those technologies and the video that we need to present is being passed to the wall."
Equipment and Room Functionality
"We're finding that equipment needs to be placed in a confined room, an equipment room. It could be monitor service, managing temperature, all those serviceable items can be in a rack and we're opening up the space with KVM."
"I think we're a part of that and we're just one of the cogs in the wheels that make a room very functional."
Video Content Transmission
"But in relation, we're not passing applications. We're passing video content. We're passing video and audio to different locations, whether it's on-prem or off-prem."
"And then, of course, we can do AV over IP and stream that to other offshoot sites."
Article written by Alexandra Simon.
Latest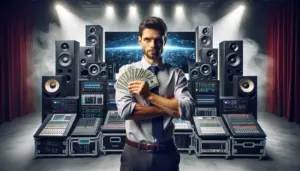 December 8, 2023
Mastering AV sales strategies in a global professional audio-visual (Pro AV) market, poised to reach $79.2 billion by 2028, requires much attention to detail. The surge in demand from corporate, government, and institutional sectors, driven by the need for enhanced productivity and efficient working environments, gives AV sales pros a lot of opportunity. In […]
Read More