Can You Find Your Home Sweet Home in This Unpredictable Housing Market?
In the fluctuating landscape of the current unpredictable housing market, potential homebuyers are navigating high mortgage rates, volatile economic conditions, housing changes and a tightening inventory.
Home prices have shown a slight decline with the median existing-home sales price dropping 0.9% to $375,700 in March compared to a year ago. It's the second month in a row of home price declines after a 131-month streak of record increases. Additionally, mortgage rates reached 6.57% at the end of May. At the same time, housing inventory remains low and is not expected to fully recover in 2023. As of 2023, inventory is approximately 46% below the historical average dating back to 1999​​. Economists predict that if the current economic conditions persist, the housing market is likely in for a slow and tenuous recovery.
These challenges have made the path to homeownership somewhat treacherous, but with the right approach and preparation, it can still be traversed successfully. A recent poll by Fannie Mae found that consumers are feeling a lot more optimistic about the future of this unpredictable housing market. The quest for the perfect home may take time and patience, but the reward – a place to call your own – makes it all worthwhile.
Rob Jensen, Broker and Owner of Rob Jensen Company, gives some advice on how to buy a home even in the midst of all this uncertainty.
Rob's Thoughts:
"To get the best deal when buying a home, start by finding the best representation. Go online and search the best real estate agents, review their sales history, read their reviews, and interview your top picks. That way, you won't end up with your cousin or that random agent you met at the open house. Then, get your financials ready so you don't miss out on that great opportunity. Sellers prefer certainty, which is why cash is most desirable. Second would be an underwritten loan pre-approval, and the weakest would be an over-the-phone pre-qualification. Finally, you've got to get out and look at homes. Some people need to see five homes, others 25 homes before they find something they like. But, as you get out there and view homes, you'll refine your search criteria and eventually find that perfect home and be comfortable submitting an offer."
Latest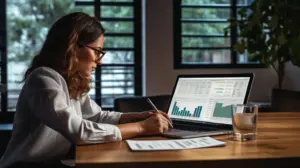 October 4, 2023
The intersection between security and financial acumen often gets overshadowed in a constantly changing economic landscape. While security is essential for safeguarding assets and ensuring continuity, its perceived monetary value is mired in misconceptions affecting company profitability. For many, security is viewed primarily as an expense rather than a potential cost-saver. However, understanding […]
Read More