How COP 27 is Bringing Some Major Updates to the Business World
Cameron Balch, Director, Impact Cooperative gives a report on the key issues this year and how COP 27 is bringing some major updates to the business world.
Cameron's Thoughts: 
The key issues this year are finance between governments, mainly industrial countries, and developing countries attempting to cope with climate change, to a lesser extent. There's also a concern about methane, which is another greenhouse gas in addition to carbon, which is extremely critical based on how potent it is.
But what I really want to talk to you today is about how COP 27 is bringing some updates to the business world and that really centers around ESG. To learn more about this, the International Sustainability Standards Board is a worthwhile organization to check out. They've been working since last year's COP 26, which took place in Glasgow.
They've been working to unify the approach to ESG worldwide. There have been a lot of competing standards and frameworks out there that different companies and really different government organizations have been lobbying for and following their lead. ISSB is bringing all of those under one roof. They've actually just announced some big kind of decisions that they've made moving forward with what they're publishing next year. This is a single unified ESG standard that the whole world can follow.
Latest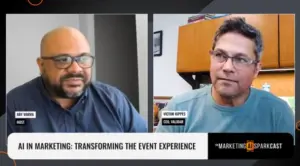 November 28, 2023
AI has been gradually changing the landscape of event technology at a very rapid pace. In an industry where staying ahead of technological trends is crucial, AI's impact on marketing and event management has become increasingly significant. As witnessed in the rise of account-based marketing and enhanced personalization, AI is effectively reshaping how events […]
Read More