Creating Thriving Company Culture in a Hybrid Environment
Key Insights:
People, especially newer employees, want a hybrid working environment.
Building a connection with your employees is critical to setting up long-term success.
COVID changed the landscape of the workplace but it shouldn't impact team culture in a negative way.
---
When COVID introduced a more commonplace online working environment, it changed the way we interact with each other, often making it more difficult to build a team and construct a company culture for new onboarders.
Having worked with some of the top Fortune 500 companies, Giselle Kovary, President of n-gen People Performance, aims to help organizations integrate culture, knowledge, and high performance. Listening to and communicating with others is integral to building a future of successful and happy employees and n-gen People Performance knows how to do just that.
Read Giselle's Thoughts:
Hello, I'm just Giselle Kovary, President of n-gen People Performance. We are a learning enablement organization that supports our clients in closing the knowledge gap and ensuring their teams can be more high-performing. We've worked with 20 of the top Fortune 500 companies globally and I've trained over 65,000 people over the last 25 years in this space.
And I'm really interested in excited to be talking about what we can be doing in a hybrid environment to ensure that our organizational cultures are as successful as possible. And one of the challenges that I'm finding organizations are facing right now is that it's really difficult for the executive leadership teams, in particular, to have their finger on the pulse of the organizational culture when people are still working from home.
So I'm hearing all the time from CEOs and executive teams and boards saying: Do we really understand how well our people are doing? Are they struggling with mental health issues? What's happening around the connection? And especially when we think about all of the individuals that have been hired during COVID, that they were onboarded virtually, they've been working virtually, and they haven't had a chance to come back together.
So as organizations reintegrate their teams into an office and come up with some variation of a hybrid work environment, I think that is critical to maintaining the organizational culture and ensuring that that culture evolves to one that is perhaps a little different than it was before COVID. We really do have an inflection point at organizations now and it's a great opportunity to connect.
It's also about figuring out what that right balance is for your organization, between at-home work and in-office work. Some organizations are going one end of the spectrum or the other but by and large people are selecting some form of hybrid environment and I think that is really, really critical. So, what should employers be doing right now is important to consider because there are so many different things that they can be doing.
And we speak with our clients around a model called TRP: transparency, responsiveness, and partnering. And if leaders and the organization focus on those three things, they're really able to solidify relationship with employees that's sticky. And that ensures engagement can be increased. So transparency is being more open and honest and forthcoming with your organizational motives and intentions. Responsiveness is soliciting employee opinions, asking how things are going now, during COVID transitioning back into the organization, how are they feeling about a hybrid work environment, getting their ideas and their suggestions. And partnering is really taking a partner approach which is recognizing that every single employee within an organization is choosing to invest their time, their energy, their skills, and their knowledge within your organization.
So how do we make sure that it's a win-win? And so part of what's happening right now, as we experience this great resignation or great migration, is that we have challenges in being able to make sure that we can retain the right people. So we need to double down on transparency, responsiveness, and partnering to make sure that we can drive engagement, drive connection with people, as well as giving people some flexibility and some choice that will also be critical going forward.
And I think a final piece to consider, when we think about how can we have this engaging culture in a new hybrid work environment, is making sure that we don't overlook the generational differences. This is a passion area of mine. I've been researching and writing in this space for almost 20 years. And early in-career talent that we work with, say consistently over the last year and a half, two years: we want to get back into the office. Maybe not, full-time not all week, but we want to get back in.
They are eager to receive coaching and mentoring and feedback. They're eager to connect with people and have social. And we want to make sure that when they're in the office, it's the right things that are happening. They're having an opportunity to connect with senior leaders, that they have a chance to have some social engagement with people, that it's fun when they're in the office. And that the at-home time is really focused on delivering some of the work that they need to do. And then also building those critical skills around working independently. So this is great blend and connection, but we don't want to overlook the early in-career talent and making sure that they have a great set up for success for their careers.
I'm really excited to be talking about this topic at a number of different places moving forward. I'll be at some conferences in May and June. If you're at the ATD Conference, absolutely connect with me and find me. That's May 13th to 16th. On May 26th, I think it is. The 26th. Yeah, so on May 26th I'll be speaking at the campus recruitment forum.
And then in June, June 13th to 15th, I will be at the SHRM conference in New Orleans and I will be speaking on the morning of June 14th and I'll be speaking about and presenting some content and some research around how do you evolve your culture in this hybrid work environment to make sure that it's really engaging and, and, um, involving everyone.
I'm going to be speaking at a number of different events in the next couple of months, I'll be at the ATD Conference, which is May 16th to 18th. I'll be speaking at the campus recruitment forum, uh, virtually on May 25th and then I'll also be at the SHRM Conference in New Orleans in June. So I think that's June 13th to 15th. I'll be in the morning, speaking in the morning of June 14th. And, uh, my presentation will be looking at the research and the content around how can you evolve your workplace culture to ensure that you were most successful in a hybrid environment. So I look forward to seeing you there and connecting.
Latest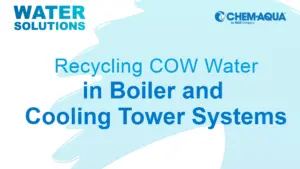 December 7, 2023
For the latest episode of ChemAqua's Water Solutions podcast, the focus was on an innovative approach to water conservation in the dairy industry. The show examined the potential of reusing Condensate of Whey (COW) water, a byproduct of dairy processing, and highlighted some of its economic and environmental benefits. Hosted by Dani Waddell, the informative […]
Read More