How Women Remain Underrepresented At All Levels of Management
Keypoints:
Women remain underrepresented in leadership positions due to the pandemic.
The pandemic burnt women out due to increased responsibility at work and home.
Nearly two million are considering dialing back their job responsibility or leaving altogether.
Commentary:
According to the annual Women in the Workplace report from McKinsey & Company and women's advocacy nonprofit Lean In, women are struggling with their careers even more than last year. Forty-two percent of women said they felt burned out "often or almost always," up from 32 percent in 2020. A second study also finds that one of every four women in senior-level positions —more than two million of them—are now considering dialing back their job responsibilities, taking a leave of absence, or leaving the workforce altogether. Talking with MarketScale to discuss how women remain underrepresented in leadership positions is Dr. Lauren Tucker, the CEO of Do What Matters.
Abridged Thoughts:
Although we've seen some important gains in the last decade, women are still significantly underrepresented at all levels of management and corporate America. As a result of the pandemic, women's participation rates in the workforce are at a 30 year low. Women continue to have a worse day-to-day experience at work than their male counterparts, and women are still tasked with the preponderance of child care and household management duties that got much more complicated during the pandemic.
For women at work, the barriers to feeling safe, heard, and valued at work are greater than ever. Women are more likely than men to have their competence questioned, and their authority undermined, and women of color are especially likely to be disrespected, blocked, and dismissed. This creates a drag on company culture and US culture because it corrodes creativity and innovation and undermines the power of women who still manage the majority of dollars invested in household goods. This is a crucial driver of the US economy. Our economy needs empowered women to see the kind of economic growth that will increase our standard of living and make us more competitive on a global scale.
More Like This Story:
Latest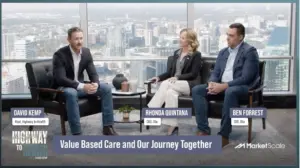 December 7, 2023
As of recent times, the healthcare industry has been progressively shifting towards value-based care, a model that emphasizes patient outcomes over the quantity of services delivered. This transition represents a significant shift that promises to enhance patient experiences and outcomes while controlling healthcare costs. With a growing emphasis on this approach, especially over the […]
Read More