Crypto Association Calls for Urgent Industry Action
The Global Digital Asset and Cryptocurrency Association published an open letter pleading with companies to better the industry for both companies and consumers. In this letter, the Global DAC cites customers with worthless claims, companies crumbling and general malpractice and immediate needs that need fixing across the crypto industry.
Gabrielle Kusz, CEO at the Global DAC, says that this letter is to all companies operating in this sector and that it needs to be taken seriously by all.
Gabrielle's Thoughts:
"So the motto of the Global Digital Asset and Cryptocurrency Association is responsible innovation in action. And so it is important to call out bad actors, but then it is equally important to take a moment to reflect on what some of the challenges are underlying the key FTX collapse and what we can do as an industry to step forward from a point of stewardship to take action and to be able to enhance performance and quality in the industry, and then be able to reinstall confidence and to lead from a point of consumer protection, market integrity and evolution and advancement of both digital assets as well as the underlying blockchain technology.
I think that as an industry it is still a bit maturing, so you have some levels of disparate voices, but the reality is that as we mature, as we grow, there's a need for all of the industry to come together and to agree on those foundational aspects that need to be addressed in order to ensure that this industry can step forward and to help allow actors to invest, to participate with comfort and confidence, knowing that we have a certain level of belief, and that belief is both oriented and anchored in technical expertise as well as in ethical behavior.
The core concepts that we are looking at from the global DCA side, are areas that are generally accepted and are not necessarily controversial. So you're talking about appropriate disclosure, liquidity levels, risk management, internal controls, and corporate governance. You're looking at bookkeeping and appropriate recordkeeping and things like independent audits. It is around, these core areas that when we look at what some of the challenges are with FTX, and even if we look more broadly at the industry as a whole, what we believe those certain minimum behaviors, those certain minimum technical attributes should be, these are the baseline that we can build upon as we move forward to grow, evolve, and I think ultimately to achieve what we believe is a global digital financial future."
Latest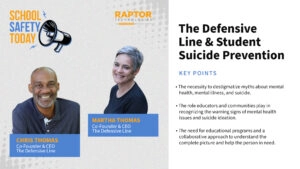 September 22, 2023
Student suicide prevention is a paramount concern among mental health providers. For one organization, student suicide prevention is more than a concern: it's their mission. The alarming rise in mental health crises among youth has become a pressing concern in recent times. With the complexities of modern life and the challenges of the digital […]
Read More