ChatGPT Will Be the Calculator for Writing, Top Economist Says
Sourced by MarketScale
(Bloomberg) —
ChatGPT, the artificial intelligence system that can produce sophisticated essays on complex subjects in seconds, will become the "calculator for writing," according to a leading economist.
Erik Brynjolfsson, professor of economics and information technology at Stanford University, said the chat bot "will get rid of a lot of routine, rote type of work and at the same time people using it may be able to do more creative work."
Teachers and university professors are worried that ChatGPT, made by the Microsoft Corp.-backed OpenAI, will have a detrimental effect on students by making cheating easier than ever. It has already passed parts of the bar, the entrance exam for US law schools. Schools and universities are now adapting their syllabi and work flows to deal with the technology.
Brynjolfsson, who co-wrote the groundbreaking 2014 book on AI, The Second Machine Age, spoke with Bloomberg on the sidelines of the World Economic Forum in Davos. He said that does not believe the technology will replace thinking or writing. Instead, just as the calculator made basic mathematics straightforward, he expects ChatGPT to "augment our ability to write."
"The hype around this technology is legit," he said. "It is roughly on the scale of progress as the deep learning machine algorithms in 2012 that ignited the whole surge in AI over the past decade. If we do it right, the next ten years will be some of the most interesting writing that we've ever seen."
Latest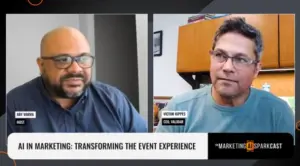 November 28, 2023
AI has been gradually changing the landscape of event technology at a very rapid pace. In an industry where staying ahead of technological trends is crucial, AI's impact on marketing and event management has become increasingly significant. As witnessed in the rise of account-based marketing and enhanced personalization, AI is effectively reshaping how events […]
Read More