Tote 2.0 Benefits Introduction
The Gen 2 Tote by Phononic is the epitome of "cool" in the world of temperature-controlled logistics. This innovative product brings a new level of sophistication and efficiency to cold chain fulfillment, making it a game-changer for businesses in various industries.
With its sleek design and advanced features, the Gen 2 Tote is a testament to Phononic's commitment to cutting-edge technology. Its precise temperature control capabilities ensure that perishable items, whether it's fresh produce, pharmaceuticals, or specialty foods, are kept at the perfect temperature throughout the supply chain.
What truly sets the Gen 2 Tote apart is its intelligent design and functionality. Equipped with state-of-the-art sensors and monitoring systems, it offers real-time visibility into temperature and performance metrics. This allows businesses to proactively address any potential issues, ensuring the integrity of the goods being transported.
The Gen 2 Tote's versatility is another reason why it's considered exceptionally cool. Its modular design allows for easy customization, accommodating a wide range of products and delivery requirements. Furthermore, its energy-efficient operation minimizes power consumption, making it an environmentally friendly choice.
Overall, the Gen 2 Tote represents a significant leap forward in temperature-controlled logistics. Its "cool" factor lies not only in its sleek design but also in its ability to provide precise and reliable temperature control, ensuring product freshness and quality. With the Gen 2 Tote, businesses can elevate their cold chain fulfillment processes to new heights of efficiency, sustainability, and customer satisfaction.
Latest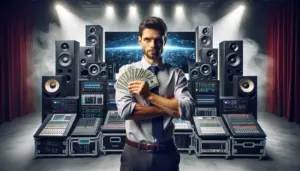 December 8, 2023
Mastering AV sales strategies in a global professional audio-visual (Pro AV) market, poised to reach $79.2 billion by 2028, requires much attention to detail. The surge in demand from corporate, government, and institutional sectors, driven by the need for enhanced productivity and efficient working environments, gives AV sales pros a lot of opportunity. In […]
Read More