TransAtlantic International Deposition Services and Stenograph® Announce Technology Partnership PRESS RELEASE DEC 1, 2022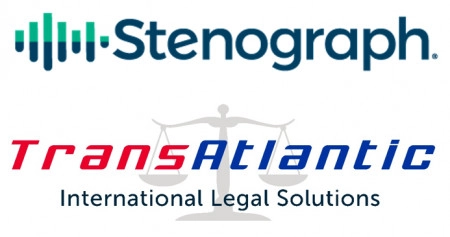 DOWNERS GROVE, Ill., December 1, 2022 (Newswire.com) – Stenograph, LLC, and TransAtlantic International Deposition Services announce a technology partnership that empowers TransAtlantic with solutions to offer the most cutting-edge technology for their legal clients. The market for legal transcription is growing and court reporting agencies are facing increased challenges to meet the gap between the supply of trained professionals and the growing demand for legal transcript pages. As the leading technology provider in the legal transcription market, Stenograph has partnered with TransAtlantic, a technology-focused agency, to provide new solutions for court reporting and transcript production.
"We are incredibly proud to partner with Stenograph who really are the true leaders in the advancement of court reporting technology and customer support. TransAtlantic Legal Solutions is a stenographic based business with a focus on real-time reporting for almost every assignment. With our evolution towards a more tech-based business, it's paramount we work with the best in our industry, as that's what we are known for," says David Ross, Managing Director of TransAtlantic International Depositions.
"Court reporters are irreplaceable, particularly as the law and the courts demand an impartial guardian of the record to maintain proper conduct capturing a certified testimony." Ross continues, "At TransAtlantic we have been searching for an innovative technology solution to meet the increasing demand for real-time reporting. Until now the only way to achieve this has been with highly skilled stenographic reporters, who are the core of our business. We adore them and we will always need them but there aren't enough coming into the field to cover our marketplace. Stenograph's new technology and education program brings us the solution to train a new workforce so we can continue to facilitate our clients with the same service, standards, and value they expect. As we continue to say to all our customers, "There's no point in going anywhere else."
Anir Dutta, President of Stenograph, says, "Stenograph is extremely excited to partner with David and his team at TransAtlantic International Deposition Services to provide solutions that will help them provide differentiated value to their court reporting as well as other legal clients. TransAtlantic's unique business model of providing court reporting, videography, and production services for very large and complex international cases provides a unique opportunity for Stenograph to highlight our technology leadership in a challenging segment of the legal deposition market."
Dutta continues, "Stenograph is using its 80-plus years of knowledge and history of court reporting to create an end-to-end portfolio of solutions that will create efficiencies needed by agencies to fill their calendar and help serve the purpose of justice globally. Whether it's steno, digital, voice, in the room, remote, hybrid record capture, video synching, or transcript production, Stenograph is committed to making court reporters and agencies more efficient and productive while preserving the accuracy and sanctity of the spoken word."
For questions contact Dan Denofsky, Vice President of Marketing at Stenograph ddenofsky@stenograph.com or David Ross, Managing Director of TransAtlantic david@tavds.com
Latest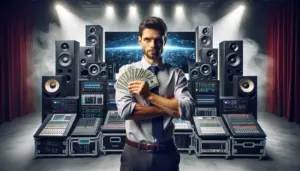 December 8, 2023
Mastering AV sales strategies in a global professional audio-visual (Pro AV) market, poised to reach $79.2 billion by 2028, requires much attention to detail. The surge in demand from corporate, government, and institutional sectors, driven by the need for enhanced productivity and efficient working environments, gives AV sales pros a lot of opportunity. In […]
Read More