Augmented Reality R&D Surges During Remote Learning
With so many students still stuck in remote learning setups, are companies are rushing to advance augmented reality applications to at least give them some sort of experience beyond two dimensions, especially when it comes to the sciences.
NexTech AR Solutions Corp., an emerging leader in augmented reality for learning applications, and Ryerson University, a recognized leader in higher education with over 46,000 students have partnered to launch RALE, the Ryerson Augmented Learning Experience platform, based on NexTech's InfernoAR. The technology license agreement has an initial value of $250,000 and may create more revenue tied to additional AR services.
You can see a sample of the RALE here – please click to view video
The initial launch of RALE will focus on first year Chemistry, Biology and Physics students from the Faculty of Science at Ryerson and enable over 5,000 students to participate in rich, collaborative AR enhanced learning experiences during the Fall and Winter Terms.
Dr. David Cramb, Dean of the Faculty of Science comments, "At Ryerson we took the bold step of re-imagining a virtual lab. With inputs from staff, students and faculty we designed and developed a completely collaborative environment that ensures an immersive and fun learning experience for our students. The incorporation of augmented reality into the STEM learning environment will change pedagogy forever."
Paul Duffy, President of NexTech comments, "A Ryerson student is a global citizen. What better way to transcend time and geography in today's COVID-culture than with Augmented Reality Holograms on the InfernoAR platform?" He continues, "each Virtual Lab has interactive videos, real-time collaborative Zoom sessions with lab technicians and fellow student lab partners complemented with AR Lab exercises that allow students to beam into their home the Lab materials required for each experiment."
During the COVID-19 pandemic, remote education has forced teachers to use every tool in their toolbox. But augmented reality, which allows both visual and hands-on instruction from any setting, remains out of reach for most educators.
A team led by Purdue University has built an app platform called MetaAR, enabling students and teachers to collaborate easily using augmented reality. "Augmented reality is overlaying digital content onto the physical world," said Karthik Ramani, Purdue's Donald W. Feddersen Distinguished Professor of Mechanical Engineering. "It can be delivered on many different devices, from a phone and a tablet, to a head-mounted display. For example, you can hold your smartphone camera up to your living room and rearrange the furniture in 3D. Or you can play a video game, and the characters show up on your kitchen table."
Ramani believes augmented reality (AR) is still in its infancy. "We've seen many applications in entertainment and advertising, which basically show you some sort of action projected onto real-world settings," he said. "But the key thing is for people to become part of the action. Augmented reality can see what you see. It can sense your hands and see how you are manipulating objects, which means AR can actually help you. It can learn from everyone, and everyone can learn from it. That's why it's ideal for education."
For more on augmented reality and education click below:
The growing role of AR and VR in education
Covid-19, 4IR and the breakneck pace at which higher education is evolving
Hands-on Classes at a Distance and the Emerging Virtual Future
7 Ways Augmented Reality Is Changing Education Industry in the UK
Latest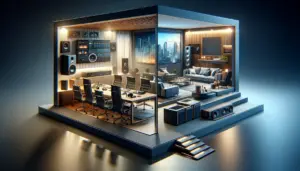 November 27, 2023
In this episode of "Pro AV Today," host Ben Thomas sits down with Audra Kinsley of Sonos Professional to unpack a topic that's causing (sound) waves in the audio industry: the fusion of commercial and residential audio systems. As we navigate through a landscape where consumer and professional audio worlds are increasingly intersecting, Sonos steps […]
Read More