How to Address Career Development in STEM Fields with Technology
Our nation is facing a serious skills gap between the number of open positions in STEM fields and the number of people qualified to fill them. This was true long before 2020, but the workforce disruption and growing dependence on technology brought about by the COVID-19 pandemic have underscored just how critical it is that we address this gap.
As businesses, schools, and other organizations try to meet the needs of an increasingly digital-first world, we need a strong talent pipeline at every level of the workforce. To accelerate this transition, we must develop greater collaboration between the business and academic worlds and within the higher education landscape itself.
Industries that depend on qualified candidates in STEM fields have driven much of the growth and innovation in this pipeline in recent decades. However, despite our advancements, the skills gap continues to hold us back. As our nation grapples recovering from an economic recession and overcoming rising unemployment caused by COVID-19, we must look to these sectors again for opportunities for renewal.
According to the World Economic Forum, companies will increasingly need qualified employees in emerging fields like cloud computing, cybersecurity, data analytics, blockchain technology and many others. An IBM study reached a similar conclusion, noting that "as many as 120 million workers in the world's 12 largest economies may need to be retrained or reskilled as a result of AI and intelligent automation." Yet, the same study found less than half of the CEOs surveyed felt they had the talent necessary to meet the challenges of the future.
The pandemic has magnified the importance of tech literacy and skills, with public health restrictions forcing businesses to move their operations online. This has created massive demand for more sophisticated digital resources and the skills to develop and maintain them. Correspondingly, we're seeing an uptick in job postings for positions like cybersecurity engineer, database administrator, systems engineer, help desk technician, and systems administrator, among others.
A larger remote workforce is not a passing fad, either. Many companies have said they plan to allow employees to continue working from home permanently after the pandemic ends. The urgency of addressing the tech skills gap will only continue to grow. This won't be easy, but there are several ways to accelerate the changes we must make.
We need tech-focused educational pathways that address the STEM skills and competencies of the future. Some organizations have joined forces with higher education institutions to provide their employees streamlined access to rapid upskilling in the form of industry-relevant certificates and individual courses, and we'll need more to adopt this approach as skill needs continue to grow. These employers have helped schools ensure that their curriculums are relevant and practical by keeping them apprised of the latest trends and competencies and the skills needed to innovate and grow.
Alliances between businesses and schools to provide education benefits to employees are not the only answer, however. Higher education institutions and business leaders are forging more direct pathways to careers that help students get to work sooner, while also earning a higher education. And, as virtual education continues to evolve, we'll also witness the power of partnerships in this vein at the community college level.
The pandemic has forced many prospective college students to reconsider whether the traditional higher education path is truly right for them, given the significant costs and time commitment involved. However, we cannot ignore the reality that many employers continue to place a premium on four-year degrees.
There's a compelling case study here in the career pathway apprenticeship program developed by Woz U, a technical education provider, and the University of Phoenix. High-performing community college graduates in STEM fields are taught technology fundamentals and placed into entry-level paid positions at Infosys. University of Phoenix teamed up with Woz U to articulate the learning involved to academic credit toward and to provide an accelerated path to earning a Bachelor of Science in Information Technology degree during their apprenticeship.
Educators and employers should continue to lean into this trend. These students have the potential to be valuable contributors in STEM fields. We should focus on creating more streamlined pathways that can help take students through from community colleges to a four-year degree.
Existing initiatives like 3+1 programs, which allow students to study for three years at a community college before transferring to a four-year institution, earning an associate and bachelor's degree in the process, are helping us make major steps forward. These and other programs align with students' focus on cost while still positioning them to pursue the career success they need. We need more of them, and we must ensure that they're tuned to reach ever broader arrays of students, if we're to continue driving progress.
We should make no mistake—addressing the tech skills gap is an economic and social imperative. Students today are anxious about the cost of degrees and the uncertain economic prospects that come with them. Alliances that provide clear pathways to vibrant, in-demand career fields can be a major piece to help solve this puzzle.
—
Twitter – @MarketScale
Facebook – facebook.com/marketscale
LinkedIn – linkedin.com/company/marketscale
Latest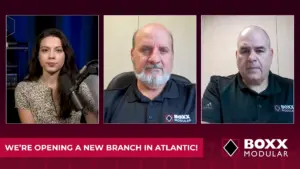 December 4, 2023
In an era where construction innovation is reshaping the industry, modular construction's growth continues to rise. In this episode of Built Modular, Boxx Modular's strategic expansion into Moncton, Atlantic Canada takes center stage. Host Gabrielle Bejarano welcomes Charles Landry and Ray Girouard to explore the implications of this venture. Bejarano, Landry, and Girouard discuss […]
Read More