Change Starts Here: Creative Ways to Help Kids Thrive in School
Being an educator is one of the most challenging and rewarding jobs, and nobody knows that better than Olympia Della Flora. On this episode of Change Starts Here, host Dustin Odham spoke with Della Flora about her experience as an educator, from teacher to principal to superintendent. They also discuss how you can best help students, including what to remember when in the classroom.
Currently a superintendent for Marion City Schools in Ohio, Della Flora grew up with an elementary school mother and a bus-driving father. She never intended to get into education, but after getting her Bachelor's degree in Biology, she pursued a Master's in Education. Her experience has taught her to build relationships with students to learn as much as possible about each one.
"I think it's sometimes difficult for teachers because they have their schedules, and, you know, they need to get through their lessons, they have their curriculum, that they need to hit certain benchmarks," says Della Flora, "and sometimes we get caught up in that, and we forget that we have little people that are sitting in our classrooms every single day."
One of her strategies is taking pieces of a student's life, creating a story out of it, and asking her faculty, "What does this mean? What does this mean for you as a teacher? What would you do with this student?" She also asks, "What do you know about this student? Have you talked to this student's family? What do you know about this student's background?" These efforts ensure a safe environment and understanding of faculty in the classrooms and everywhere else on campus.
A primary takeaway from Della Flora is that the more you know about a student, the better you will know how to address them in the classroom. "If you know your kids, and you know their triggers and how they learn best, it's going to help you be a better teacher."
Key Points:
– Get to know each student as much as possible.
– Understand the best ways to sympathize with and understand your students.
– Stay positive and committed to best helping your students.
Latest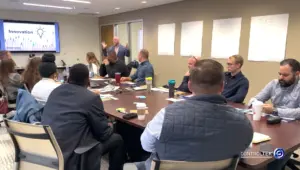 December 4, 2023
The video captures highlights from the CONTROLTEK Design Thinking Workshop specifically tailored for Burlington Stores. It shows interactive sessions, engaging group activities, and innovative brainstorming, emphasizing CONTROLTEK's commitment to developing customized retail solutions in collaboration with the Burlington Stores team.
Read More