EdTech and 21st-Century Education
As an early Baby Boomer, born just after WWII, I began my public education in the early '50s. College got me through the '60s and I began teaching in the '70s. Since my retirement from public education, I taught in a college education department for another six years. After 40 years in the classroom, I have acquired a unique perspective on education and the constant influence of technology.
My experience has taken me through the days when technology was a thing of science fiction. In those early days, tech was limited to filmstrip projectors synced to a 33rpm record narrating a picture and then beeping at the teacher to advance the filmstrip to the next frame.
There were 16mm projectors and reel-to-reel tape recorders. Mobile electronic calculators did not exist, but slide rules could calculate. The students had access to electronic typewriters in the typing rooms. The most advanced technology back then was the overhead projector, a piece of tech that many still use today for the very same reasons.
Then and Now
Education philosophy was simple back then. The teacher was the content expert and main lecturer. Direct instruction was a break from lectures, but both were the mainstay of education. Content was king. Some teachers did simulations and others experimented with integrated projects, but mostly students sat in rows and took notes.
Field trips, although tightly controlled, always added an element of adventure and broke the monotony. That description sounds bleak, but the difference came in the personalities of the teachers. Although many strove to make things interesting, education was prescribed and controlled.
Of course, this is a generalization, but I believe that it's a picture of 20th century education many people will recognize. Most of us are products of a very similar education. That mindset imprinted and molded many, if not most, of the very educators teaching in our system today. The students are the empty vessels into which a teacher must pour content that will become "knowledge." It's a simple philosophy from a simpler time.
A decade and a half of the 21st century has already gone by. What does education look like compared to what the Baby Boomers saw as the future?
Accessing information happens in seconds. Communication happens globally with face-to-face technology. Students possess handheld mobile computers for communication, calculation, collaboration, curation, and creation. Documents, pictures, videos, and audio files are created, played, displayed, and communicated in a flash.
This allows for more than just memorizing content — students and teachers can now create and curate content. Our tools lend themselves to collaboration on a local or global scale.
Few of these 21st-century wonders fit into the 20th century model of education. Students and teachers now have capabilities that were never before available to them. The technology was not there to provide this kind of access.
The Right Tech for Our Times
The educators of today need to be innovative in creating lessons that employ technology to do things that will be required in our students' future. We would not consider running bullet trains on tracks built in the 1950s. We would never drive cars of today on the highways of the 1900s. We can't land modern aircraft at airports of the '50s. Our old analog televisions no longer work in our world of digital communication.
As technology evolves, how we use it in education must evolve as well. The only reason that we still find the overhead projector in most U.S. schools is because many teachers are still giving lectures to rows of kids taking notes to pass that teacher's tests.
That's 20th century education in a 21st century setting, and it makes no sense to me.
One example of 21st century education is the flipped classroom, which provides students with an overall picture of a topic before the teacher addresses it. Authentic learning is beginning to take hold. Students have real-world reasons for doing a project, taking it out of the abstract world that's too often been the experience in schools.
BYOD invites students to "bring your own devices," recognizing that all technology isn't school-specific and all learning isn't limited to the classroom. Skype and Google Hangouts provide students with local or global connections, so instead of taking notes about China, classes in America and China can connect and collaborate face to face. There's also student voice and personal learning, giving kids the ability to learn about their interests.
Supporting Relevant Education
Technology has the ability to take kids beyond passively taking notes. That methodology was supported for years by blackboards, whiteboards, overheads, and more recently PowerPoint presentations. Maybe we were programmed with a 20th century mindset, but it's long past time to change it to a more collaborative and personally-driven mindset for the 21st century.
If you, as an educator, find your thinking and leanings more in line with the first half of this post and are less comfortable with the latter, you're not alone. Change in education is slow — it's a very conservative system. Our tech-driven culture, however, is less forgiving and will not wait. If educators aren't striving to be relevant, they're falling behind more and more. We don't need to repurpose today's tools to make them fit a 20th century education model. We need to develop new methodology to meet the needs of 21st century learners.
To change the system, we first need to change the culture.
Being connected as an educator empowers us to learn how to become more impactful in our teaching. Technology provides educators with the ability to connect and collaborate with other educators and thought leaders. It invites them to examine and reflect on the changes needed in education. As professionals, we must stay relevant and digitally literate in a continually changing environment. If we are to better educate our kids, first we need to better educate their educators.
---
This post was originally featured on Edutopia
You can follow Tom on Twitter
For the latest news, videos, and podcasts in the Education Technology Industry, be sure to subscribe to our industry publication.
Follow us on social media for the latest updates in B2B!
Twitter – @MarketScale
Facebook – facebook.com/marketscale
Ed Tech LinkedIn Market Leaders – https://www.linkedin.com/groups/12273301/
Latest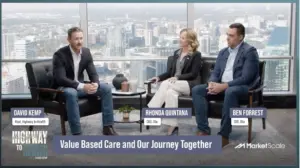 December 7, 2023
As of recent times, the healthcare industry has been progressively shifting towards value-based care, a model that emphasizes patient outcomes over the quantity of services delivered. This transition represents a significant shift that promises to enhance patient experiences and outcomes while controlling healthcare costs. With a growing emphasis on this approach, especially over the […]
Read More