The Department of Education Challenges Innovators to Disrupt Higher Ed
The US Department of Education is issuing a "Higher Education Ecosystem Challenge" that asks for new design concepts that cultivate a "truly student-centered ecosystem." The move comes as part of a larger trend from governmental education officials looking to disrupt and innovate in the education industry.
The challenge offers any accepted ideas with the most potential to be launched with "a variety of partners," with details on exactly who those partners are to be announced at a later date. The Higher Education Ecosystem Challenge, as its name suggests, focuses on improving student outcomes in postsecondary education, and many see it as a follow-up to the previous administration's Department of Education program, EQUIP.
Educational Quality through Innovative Partnerships (EQUIP) was a 2016 experiment to generate partnerships between "non-traditional providers" and colleges and universities. These unconventional approaches developed programs like coding boot camps and similar initiatives that made student learning and job outcomes a priority.
With the success of EQUIP in the rearview and more details to be announced soon on this year's challenge, the question becomes if and how education innovators will take up the call.
Latest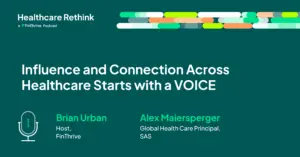 September 29, 2023
In the latest episode of the Healthcare Rethink podcast, presented by FinThrive, host Brian Urban sits down with Alex Maiersperger, the Global Principal Healthcare at SAS. Their conversation charts the role voice plays in influencing and connecting the healthcare industry. Maiersperger, who co-founded the Advancement League, shares his journey from being a healthcare optimist to […]
Read More