How Flexible Classrooms Support Tomorrow's Workforce
We don't know what the future of work will look like when today's students graduate, but one thing is for sure—adaptability and flexibility, including flexible classrooms, will be critical skills in order to respond to constant change with confidence.
Education now reflects the importance of developing transferrable skills, such as creativity, communication, critical thinking, and collaboration, to prepare for the future of work in a global economy. The learning emphasis for students has shifted from memorizing content to learning how to learn—as that will be the most highly prized skill in coming decades.
Related content: What do collaborative classrooms really look like on campus?
In the Future of Jobs, the World Economic Forum (WEF) reports that the primary driver of change in global business is the evolution of flexible working environments. Most companies now use teams of employees to accomplish work tasks. Collaborative work is flexible by nature, and new working environments are enabled by:
• Ubiquitous high-speed mobile internet
• Artificial intelligence
• Widespread adoption of big data analytics
• Cloud technology
As these drivers create massive technology adoption by global businesses, education, and government, it has resulted in new flexibility for work, such as teleconferencing, telecommuting, and co-working spaces catering to diverse companies and their employees.
Four reasons to move to flexible classrooms now
As the workplace continues to evolve, schools need to implement change in how students are educated for careers and lifelong learning in this new environment—one in which companies require the acceleration of creative and collaborative work.
To best support this evolution, institutions need flexible classrooms with spaces that encourage 21st-century skills.
Here's why:
1. Recent changes in classroom design mirror the new emphasis on collaboration in education and in today's workplace. Most businesses now organize their work into teams, for example, so collaboration is a critical skill for students to learn for both academic and life success.
2. New pedagogies that allow students more voice and choice in what and how they study have resulted in higher levels of student engagement as they collaborate and benefit from peer-to-peer learning.
3. Instead of the "sage on the stage," teachers now have the flexibility to coach students as they work together. This creates more powerful learning experiences for students. Innovative furniture, for example, can help to create spaces that promote student engagement and creative thinking while reflecting a school's culture.
4. The physical makeup of the classroom supports this new active learning environment as students gather and disperse throughout the day in small groups based on the needs of their learning. These active learning environments are supported and facilitated by technology.
Giving students more power
As we prepare students for their futures, it is important that classrooms mirror the new types of working environments in companies and organizations. Students need to master critical skills in order to be successful in school and work: creativity, critical thinking, communication, and collaboration. A critical element in mastering these skills is learning how to be a lifelong learner.
Making this happen begins with them taking responsibility for their own learning. Shifting pedagogy to student-centered flexible classrooms is a different way of instruction and classroom organization that requires professional development for teachers. However, a student-centered classroom is one in which students gain experience in making choices and having a voice in what and how they learn.
Latest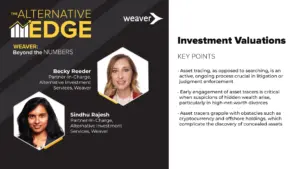 December 4, 2023
In this episode of The Alternative Edge, a Weaver: Beyond the Numbers Podcast, host Becky Reeder, an audit partner and co-leader of the alternative investments practice at Weaver, engages with Sindhu Rajesh, an Alternative Investment Services Partner with Weaver. They unpack the complexities of venture fund valuations, offering critical insights into industry dynamics and best […]
Read More