Fostering a Safe School Environment Through Parent, Student, Teacher, and Community Engagement
In the quest for a safe school environment, multiple stakeholders play a crucial role. This transcript explores the insights shared by Andrew Callis Jr, an expert from M6 Global Defense, shedding light on the responsibilities of parents, students, teachers, and community members. As schools strive to create a secure atmosphere, it is essential to understand the significance of each group's involvement and the importance of effective communication among them.
The Role of Parents:
Fostering a Foundation of Safety According to Andrew Callis Jr, parents are the first teachers and play a pivotal role in nurturing a safe school environment. As they instill core values and teach appropriate behavior, they lay the groundwork for their children's interactions with others in society. By modeling respect, reinforcing expectations, and promoting operating within systems, parents empower students to navigate the world beyond their homes responsibly.
Empowering Students:
Understanding and Following Expectations Students also have a paramount role in fostering a safe school environment. Their awareness and effective communication support safety practices. When students fully comprehend their roles and responsibilities, they develop a sense of ownership, and their voices become influential. By understanding and following expectations, students contribute to creating a secure and inclusive educational environment.
Teachers as the First Line of Defense:
Setting Expectations and Building Relationships Teachers serve as the first line of defense within schools. They establish expectations for students and facilitate the implementation of policies and procedures. Their close proximity to students allows them to identify potential issues and challenges when existing protocols may fall short. Cultivating strong relationships between teachers and students further enhances the safety measures and creates a conducive learning environment.
The Vital Role of Community Members:
Active Stakeholders Community members have a vested interest in the well-being of schools as integral parts of their communities. Their diverse expertise can greatly contribute to advancing school safety. By actively engaging as stakeholders and having a voice in the planning process, community members ensure representation and collaborative decision-making. Surveys, open houses, collaborations with school personnel, and career fairs are essential avenues for community involvement in addressing safety concerns.
The Power of Effective Communication:
Bridging Gaps in Safety Plans While each group's involvement is vital, effective communication among parents, students, teachers, and community members is key to bridging potential gaps in the safety plan. By fostering open dialogue, inviting collaboration, and promoting transparency, schools can ensure that all voices are heard and valued. When there is a strong relationship between the school and the community, both entities become intertwined, resulting in long-term partnerships that transcend changes in leadership.
Creating a safe school environment requires the collective efforts of parents, students, teachers, and community members. By recognizing the crucial role each group plays and promoting effective communication among them, schools can establish a comprehensive safety framework. When parents teach core values, students understand their responsibilities, teachers set expectations, and community members actively engage, a collaborative and secure educational atmosphere can be achieved for the benefit of all.
Latest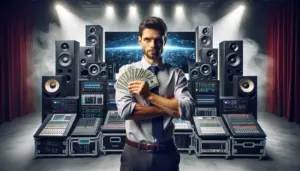 December 8, 2023
Mastering AV sales strategies in a global professional audio-visual (Pro AV) market, poised to reach $79.2 billion by 2028, requires much attention to detail. The surge in demand from corporate, government, and institutional sectors, driven by the need for enhanced productivity and efficient working environments, gives AV sales pros a lot of opportunity. In […]
Read More