Getting Back to Hands-On Creative Learning
Celebrating the leaders and experts that are powering education into the future, host JW Marshall sets out to ask the "right questions" in EdTech to understand the changes in policy and technology that will power our universities, tradeschools, and companies – and drive growth in upskilling certifications.
The way teachers teach and students learn is continually evolving. Thanks to technology, there are lots of digital tools to support this. But what about hands-on, creative learning? What role does it have in education? Founder of 3Dux Design Marci Klein shared her story of developing an architecture modeling product with her kids.
The concept was born from Klein's daughter, inspired by a summer architecture program, realizing that architecture was a way to blend STEM and creativity. Klein's son soon joined in as well, as they'd always been a family that was always using its imagination to create new things with the wonders of cardboard.
"It's been a great entrepreneurial experience with my children. Seeing them develop a concept grow. I had always encouraged creativity in my kids, something modern toys don't provide anymore," Klein said.
Today's modern toy market delivers high on features and low on imagination because everything has instructions. What their product does is initiate design thinking. Klein explained, "Design thinking is design that considers the end-user rather than yourself. You're designing for that person. It opens people up to empathy."
The architecture sets are now available for kids, including connectors and cardboard. "The connectors really replace the duct tape and glue you'd usually use in constructing something with cardboard. They're easy to pull on and off," Klein said.
The company also produces classroom sets with curriculum to bring back hands-on, creative design in school. "Teachers loved that they were open-ended but needed some structure. So, we developed lesson plans and curriculum for a global audience," Klein added.
While just in their third year, the pandemic hit. However, they were able to shift to creating content that kids could complete at home.
"You don't need fancy equipment to creatively problem solve, and subjects shouldn't be in silos. Our sets focus on a more holistic way of learning," Klein said.

Latest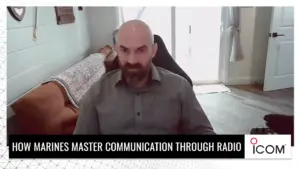 November 29, 2023
Amid the chaos of the battlefield, the mastery of radio communication can mean the difference between victory and defeat. Marine Corps Veteran Jacob Dent provides a comprehensive look at the pivotal role of single-channel radios in ensuring operational success and safety for Marines stationed at Camp Pendleton and in global operations. The video delves […]
Read More