How Strategic Investment in Employee Education Pays Off
Adult learners are changing the dynamics of higher education. Universities are seeking more students than traditional post-secondary enrollees. Employers want to upskill, reskill, and retain employees. Companies like Guild Education are helping these two meet and deliver opportunities. Michael Horn, Guild Education Senior Strategist and industry guru, shared his thoughts.
Horn said, "Colleges are struggling. Expenses are rising with limitations in revenue generation. By 2025, the number of traditional high school graduates going to college will be less. How do they find more students? Working adult learners."
There are around 88 million adults that need upskilling and reskilling, and that's the answer to higher ed's problem. It also solves employer challenges with workers who need new skills to grow their careers and meet the company's objectives.
"Investing in employees benefits them and the organization. Employees that have educational opportunities through their work are 2.6 times more likely to stay than their peers. Turnover is expensive, and this makes the case for employers," Horn commented.
Employers have been late to adopt these models, and some had educational benefits, but employees were taking advantage. "In many companies, there was a tuition reimbursement approach, which could be too risky for individuals with cash floor worries. Switching to tuition assistance programs changes that," Hood noted.
Other problems revolve around the inability for employers to navigate and guide employees to specific courses or learning tracks. Not having the technology to support permissioning was also a challenge. Horn said, "Employers were also worried about not being able to measure ROI, but we're able to measure those things, finding that for every $1 invested by an employer in an employee's education, they get a return of $2.44."
The impact of COVID on the industry is another aspect of the story. While Horn thought Guild would see numbers fall, the opposite has been true. "We have 25% more students than in March. Employers aren't pulling back on this. They know it's a key benefit and drives value," he reported.
Latest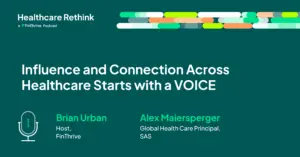 September 29, 2023
In the latest episode of the Healthcare Rethink podcast, presented by FinThrive, host Brian Urban sits down with Alex Maiersperger, the Global Principal Healthcare at SAS. Their conversation charts the role voice plays in influencing and connecting the healthcare industry. Maiersperger, who co-founded the Advancement League, shares his journey from being a healthcare optimist to […]
Read More