How to Build Meaningful Relationships in a Virtual Workplace
The coronavirus pandemic continues to transform the way people live and work, including the way professionals build relationships with their colleagues in a virtual setting.
With a proprietary relationship-building technique called the 5-Star Approach, Tyler Small shows that creating meaningful relationships online is possible — and even easy.
He posits that people who want to build relationships with their coworkers must invent new ways of meeting or running into people. Unlike real life, where you can organically strike up a conversation with others at the printer or water cooler, virtual workplaces don't have these meetup spots.
Small suggests three ways to connect with virtual coworkers:
Once they go on a break, ask a colleague if they have a minute to chat
Before a meeting starts, see if a coworker would be interested in a one-on-one call if time permits after the meeting
Create a schedule to catch up with certain people during the week
He also mentioned that the best way to meet with someone virtually is through a face-to-face conversation where you can see each other on the screen, as this is the most similar to conversations you'd have in real life. In fact, Small noticed a huge difference in the cultures of companies that work mostly face-to-face and those that work mostly over the phone.
When it comes to improving on your current relationships, Small encourages seeking feedback from the people you interact with. Ask them, "From 1-5, how would you rate our relationship? What can I do to make it better?"
Questions like these give you a baseline to work with, and shows you the direction you need to take moving forward. Once you begin the 5-Star Approach with someone, they will begin to reciprocate your efforts — a phenomenon called the law of reciprocation.

Latest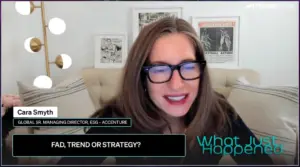 November 30, 2023
The world is in an era where sustainability and responsible retail business practices are increasingly crucial. For the latest episode of "What Just Happened," host Christine Russo further explored the hows and whys of this pressing issue by interviewing Cara Smyth, Global Senior Managing Director for ESG and Responsible Retail at Accenture, and Chair […]
Read More