Meeting the Demand for Better EdTech Solutions and Data
Celebrating the leaders and experts that are powering education into the future, host JW Marshall sets out to ask the "right questions" in EdTech to understand the changes in policy and technology that will power our universities, tradeschools, and companies – and drive growth in upskilling certifications.
Education received a technology boost that was unexpected but needed during the pandemic. As students went from the classroom to the dining room, the need for EdTech, including content and a way to measure it, became paramount. Joining host JW Marshall are two online learning leaders Thom Jackson, President and CEO of EdisonLearning, and Kiran Athota, CEO of FocalPoint K12.
EdisonLearning and FocalPoint K12 are partners in the online learning platform. Although neither Jackson nor Athota are educators by trade, they have a passion for learning and technology. Talking about the partnership, Jackson said, "FocalPoint helps us move to the next generation of online learning, allowing teachers to engage students dynamically and deliver high-quality content."
Athota noted, "The company's DNA is data on student performance, learning, and interactions. The platform tells them what's working and how they can improve."
FocalPoint uses blockchain in its application, something relatively new to the education world. Athota explained, "Blockchain is an enabler for education. It's a public ledger that's verifiable and secure. It cannot be changed."
The importance of technology to education in the pandemic has been critical. And it's changing the system. Jackson said, "Everyone's had to change and adapt—students, teachers, parents, and administrators. The question is if this an episodic shift or more permanent. I think some aspects will remain after the pandemic."
Kiran added, "Online learning is now mainstream, and there's a need to measure what's happening. If you can't see what's happening, you can't improve it, so it's necessary to capture that data."
With data collection of student learning, teacher training, and content, curriculums are improving.
"There is a race to rigor in K12. The curriculum must remain rigorous to ensure growth and progress."
Latest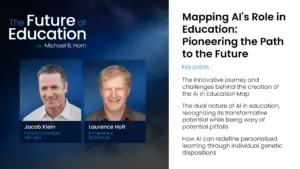 October 2, 2023
Mapping AI's role in education should be a critical step in bringing together innovative technology-based solutions with the expertise of human educators. With rapid advancements in artificial intelligence and an increased reliance on technology-driven educational solutions, the education landscape is on the brink of a significant transformation. AI promises highly personalized learning experiences, efficient administrative […]
Read More