Quality Matters, the Virtual Learning Leadership Alliance, and 2gnoMe Introduce a New Portal to Support Teaching Mastery of Effective Online Practices
COVID-19 has upended how teachers teach and how their students learn. The pandemic highlights gaps in skill readiness and inequities in access to quality resources. The work of the National Standards for Quality (NSQ) Online Learning is more relevant than ever for K-12 educators, especially those that may be new to teaching students in a blended setting or completely online. We must provide teachers the support they need to be effective online teachers if we are to close the learning gap and keep students on track to succeed.
Today, Quality Matters (QM), Virtual Learning Leadership Alliance (VLLA), and 2gnoMe, formally announce the launch of the NSQ Online Teaching Professional Learning Portal powered by 2gnoMe for teachers and education leaders. This powerful new portal is built around the NSQ Online Teaching standards — a framework for schools, districts and state agencies to support online instruction. This professional learning portal "unpacks" the standards for educators and uses a teacher's own reflections to match high-quality and aligned learning resources to individual needs and strengths. This approach puts teachers on a path towards improving their practice as instructors, both in blended and online formats.
As Rich Copeland, Supervisor of Teacher Quality for Georgia Virtual, explained, "This professional learning portal provides teachers with the professional development they need when they need it, especially now in the midst of this pandemic."
The National Standards for Quality Online Teaching were developed by experts from the online learning community — headed by QM and the VLLA — and supported by research and best practice. The standards have been downloaded more than 10,000 times. By combining expertise and technology, QM, the VLLA and 2gnoMe aim to scale access to personalized and high-quality professional learning resources for teachers aligned to the National Standards for Quality Online Teaching. This approach puts teachers in the middle of their professional learning, using reflection to enhance self-awareness ('to know me'), and then applies data to tether all relevant professional development resources to provide teachers with ongoing competency-based learning experiences.
Bob Currie, Executive Director for Montana Digital Academy and VLLA President, commented, "This partnership puts into practice the amazing work and commitment of the VLLA, QM and the community of contributors who updated the online teaching standards by putting high-quality professional learning opportunities at teachers' fingertips so they can rise to the challenge of online instruction."
The 2gnoMe technology makes it easy to offer a level of professional learning to teachers at scale that is more tailored to their needs and offered when they need it. Further, the portal enables system leaders to customize all elements of their teachers' professional learning experience (e.g., mentoring, professional learning communities, and other supports) around each teacher.
Ken Dirkin, Executive Director of the Michigan Virtual Learning Research Institute (MVLRI), stated, "This portal facilitates a coordinated system of support for our teachers. It will allow education leaders to crowd-source high-quality professional development around standards of effective online instruction. No longer will teachers or education leaders have to scramble to find good professional development aligned to their needs and priorities."
Latest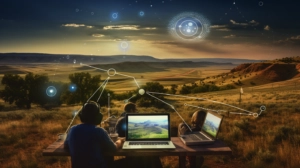 September 22, 2023
When addressing small businesses and cybersecurity, there is an issue: How to make these networks less vulnerable to attack when budget and resources aren't always available. Small businesses often face unique cybersecurity challenges. According to a report by the U.S. Small Business Administration (SBA), 88% of small business owners feel vulnerable to cyberattacks. These […]
Read More